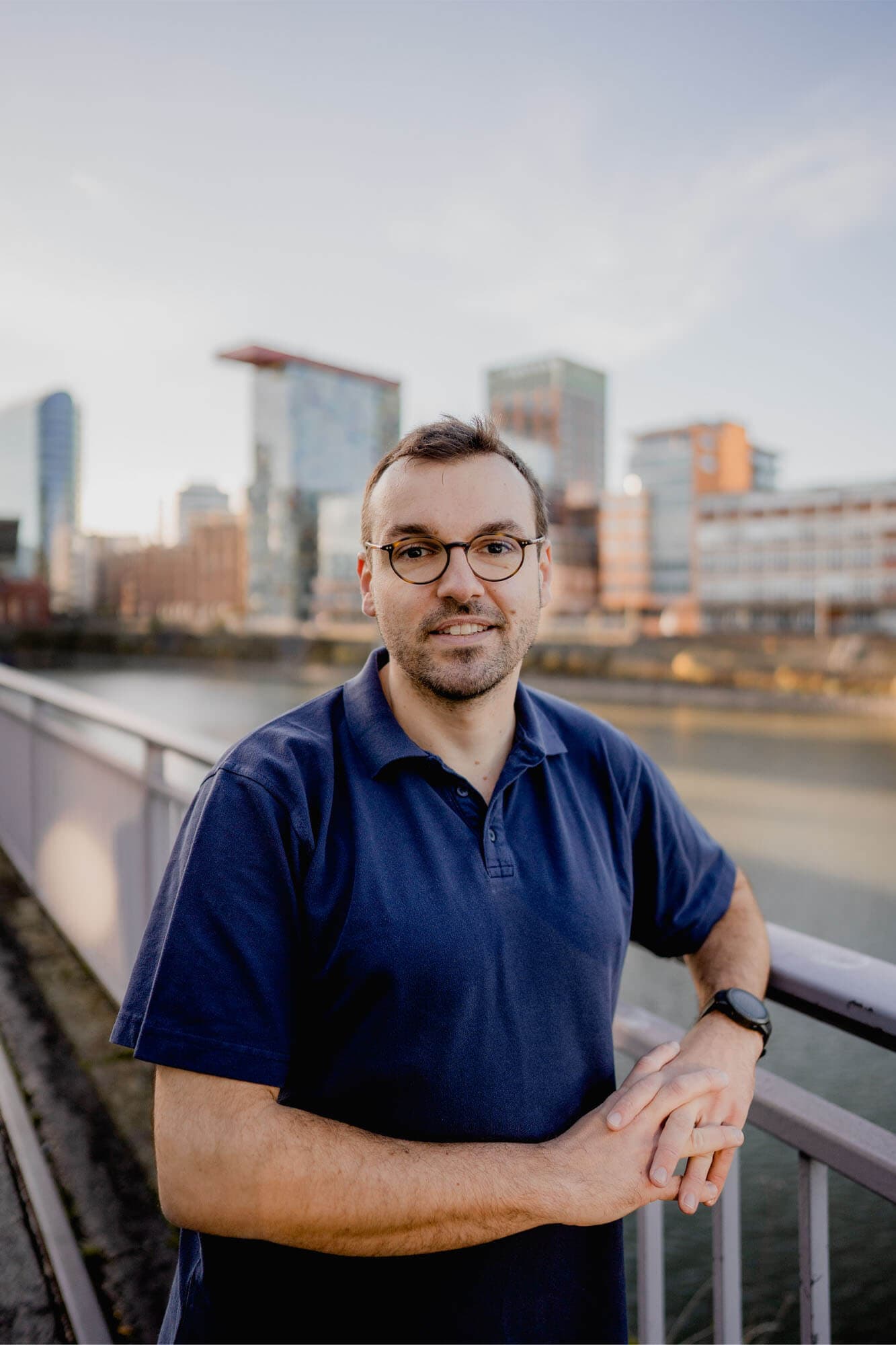 ARZT UND TRIATHLET:
"DER ARZTBERUF HAT MICH VON KLEIN AUF FASZINIERT"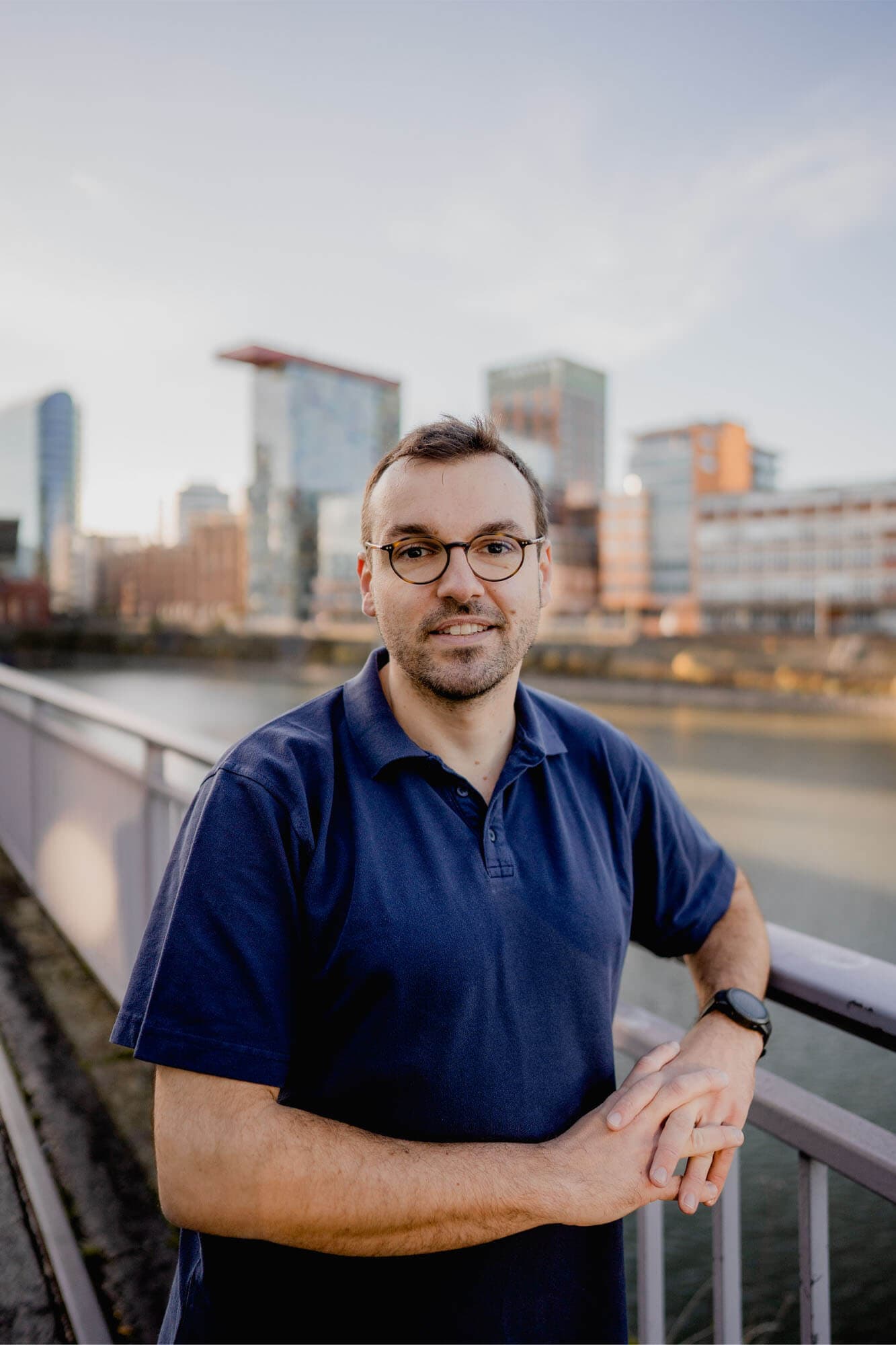 DOCTOR AND TRIATHLETE:
"THE MEDICAL PROFESSION HAS FASCINATED ME FROM AN EARLY AGE"
On a normal workday, Christian Burger is often on his feet for twelve hours or more, after which he goes to the gym. Together with his father, the specialist for internal medicine treats numerous patients every day in their joint medical practice in the north of Düsseldorf – some have appointments, but most of them don't. "Anyone who is sick comes by. As family doctors, we are the first point of contact – so things have to be as straightforward as possible," says the 36-year-old. A portrait of a physician who, in addition to his daily work as a family doctor, is regularly on call as an emergency doctor – and finds his personal setoff in sports.
The cell phone is vibrating, work is calling – and Christian Burger hasn't even arrived at the Düsseldorf medical practice he runs with his father. He is still sitting at the breakfast table. The specialist receives the most important lab results of his patients via push message on his smartphone. "Critical results are communicated to me directly, so I can plan further treatment steps more quickly and effectively," he explains.
When he arrives at the practice, Christian's first task is to check all other lab results, go through the relevant patient files and prepare for the day. At 8 a.m., it's time to see patients. A number of them are already waiting outside the doctor's office – all familiar faces. "As a family doctor, you build a close relationship with your patients and their families," he says. The personal connection is something he particularly likes about working as a family doctor, the physician emphasizes.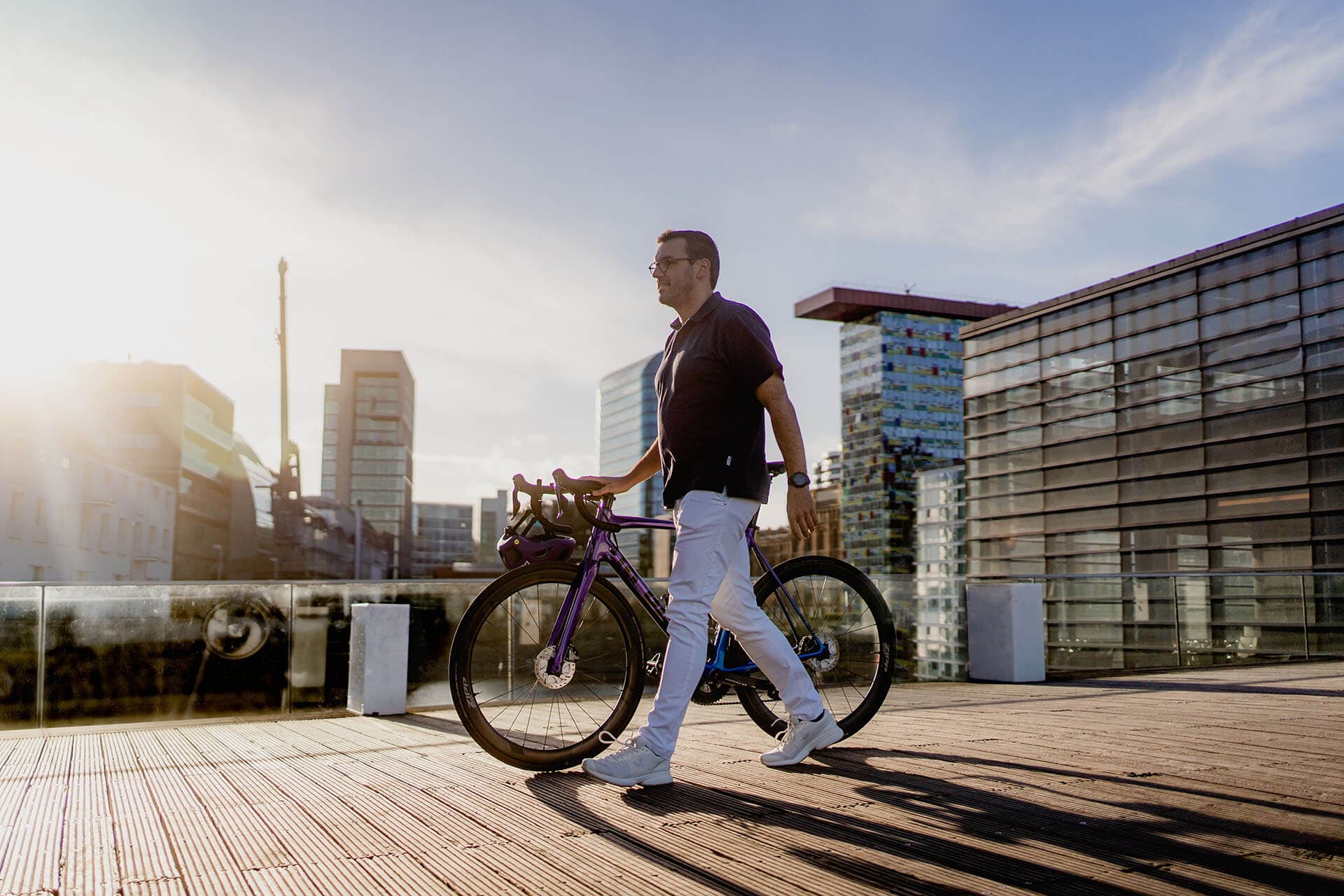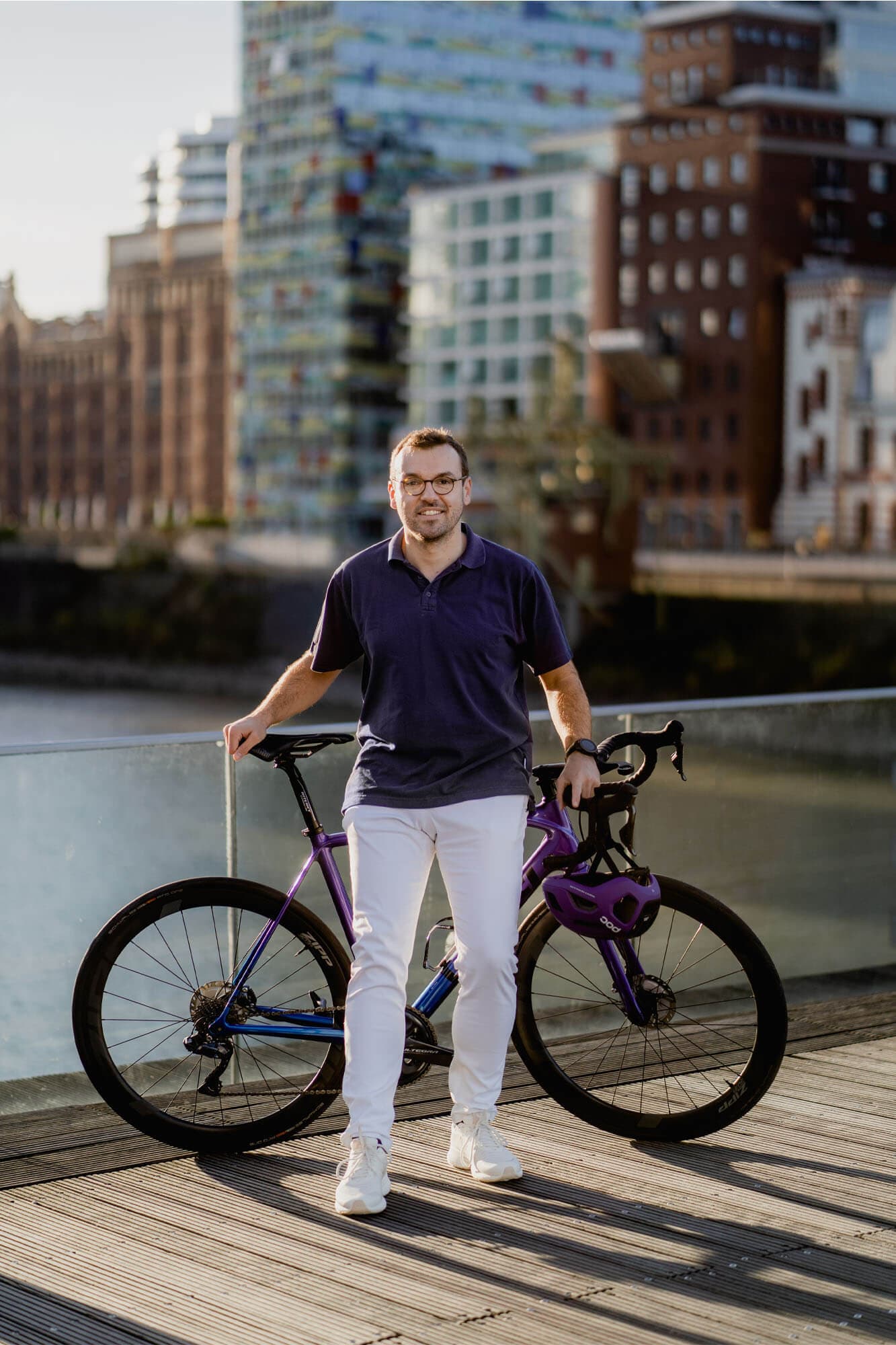 But that doesn't make his workday any less interesting. From preventive checkups to ultrasound exams to stress ECGs – "Every day is different," he says, especially because there are open consultations in addition to the day's appointments. "You can't plan for illness – we have to be there when our patients need medical care," says the family doctor.
This is one of the reasons why Christian Burger decided to study medicine after school. "With my knowledge of the human body, I can help those who are in need of assistance," he says. From an early age, he was interested in becoming a doctor. No wonder, after all, Christian grew up with a family doctor for a father and a surgical nurse for a mother. As a young boy, he gained his first insights into his current profession.
As a doctor, patients usually come to see him when health problems have already occurred, says the Düsseldorf native. Thus, every patient presents him with a new task. As the first point of contact, Christian has to figure out why the patients come to him: What caused their health problems? And how can they be remedied? "In the best-case scenario, however, health problems don't arise in the first place," emphasizes the family doctor. This is why preventive treatments, such as checkups or even nutritional advice, are particularly important, he says.
"SPORTS MEDICINE HAS ALWAYS INTERESTED ME"
Just over a year ago, the specialist in internal medicine traded the hospital corridors for work in the family practice. Currently, the 36-year-old is also taking advanced training to become a sports medicine specialist. "Sports medicine is a specialty that has always interested me," he says. "Here, I have the opportunity to live out my passion for sports professionally as well." The passionate triathlete already advises and supports his home club – Triathlon Team Düsseldorf – as a medical doctor.
To help the people around him get well quickly – that's what counts for Christian. Thus, he is not only a family doctor, but also regularly on call as an emergency doctor. He tries to take on at least two 24-hour shifts in the Düsseldorf metropolitan area. "As an emergency doctor, the focus lies on different skills than in the practice – this diversity helps me to always stay up-to-date professionally," he says.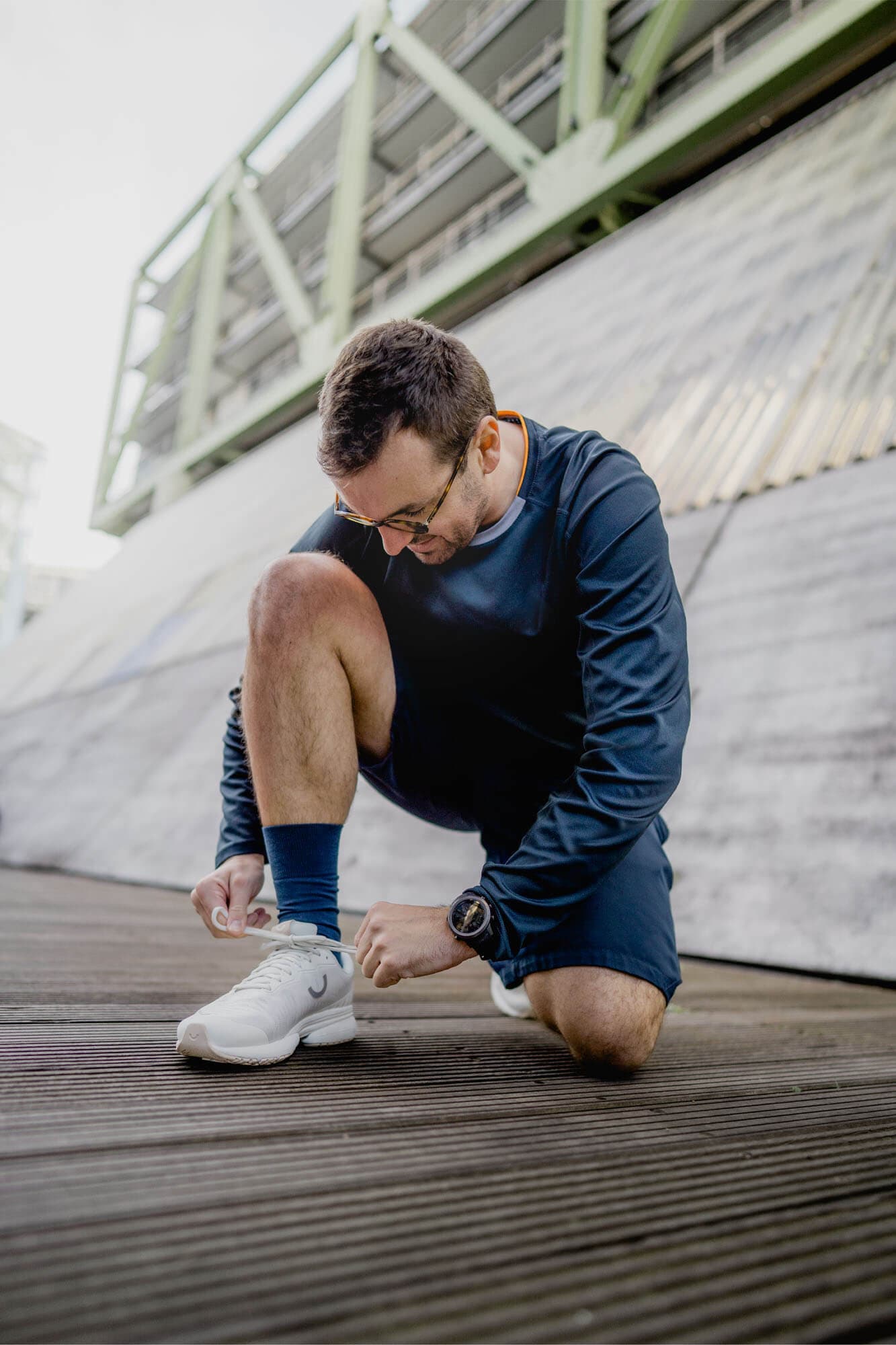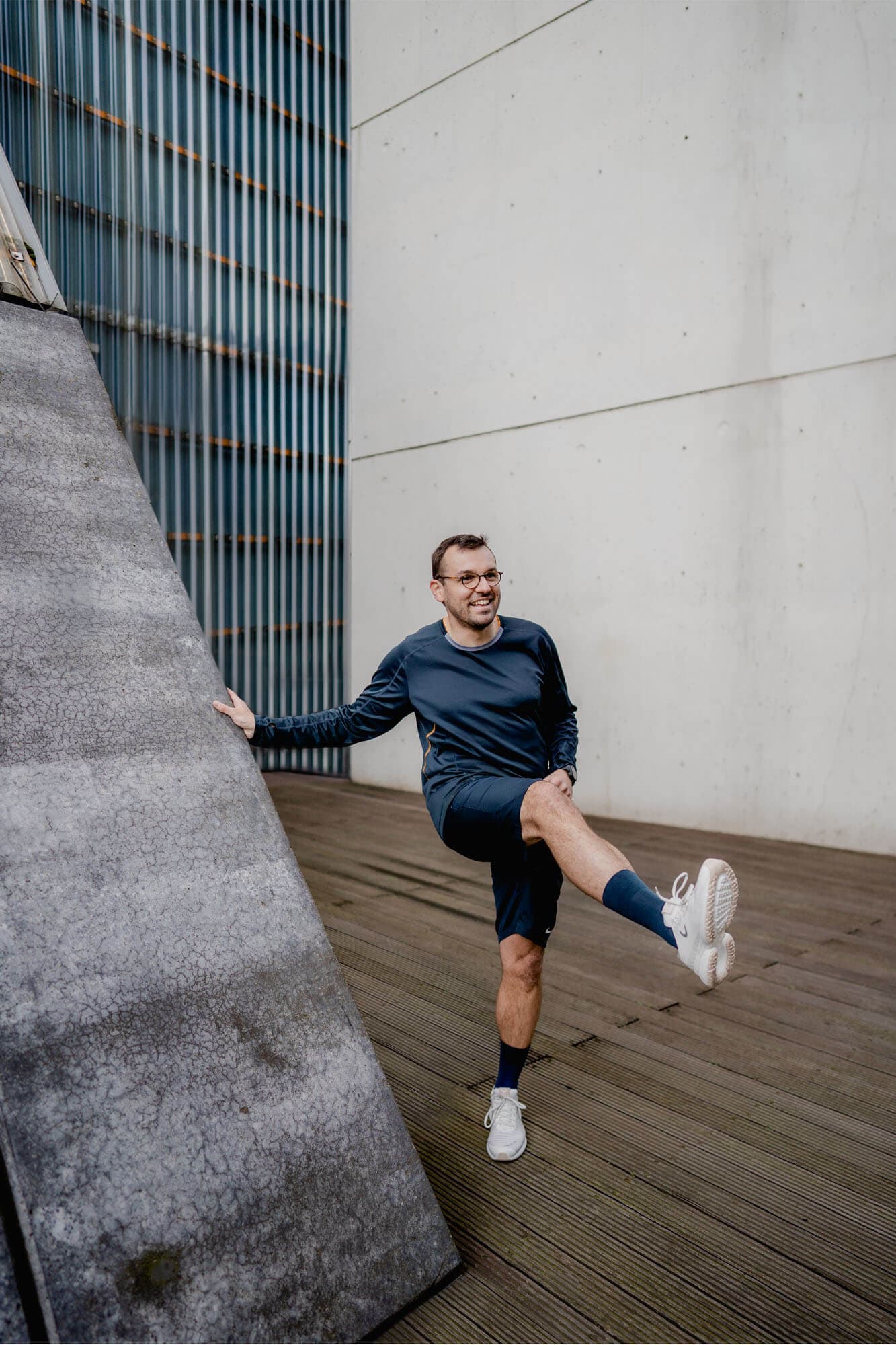 Working as an emergency physician is unpredictable. One moment you're tending to the injured in a car accident, the next you're helping with a home birth, the physician says. "A birth like that – professionally, that was definitely one of the most rewarding experiences I've had in the past year."
During a 24-hour shift, Christian is based at one of nine Düsseldorf fire stations. It is not uncommon for him to be on duty for most of this time – a high strain on both mind and body. The doctor is also on his feet a lot while working in the field. "Comfortable shoes are essential for me at work," he says.
GET RELIEF
WHENEVER YOU NEED IT
"If I wear comfortable shoes throughout the workday, I simply get more out of the evening," says Christian Burger, a doctor and triathlete. Thanks to patented U-TECH™ technology, the U-TECH White Nevos reduces stress on the knee and Achilles tendon by up to 10% – and ensures less muscle fatigue. Whenever you're on your feet a lot. Experience the U-TECH White Nevos.
On several occasions, Christian has already experienced the effects uncomfortable work shoes have on his body. After work, his feet hurt, his back ached, and his body was so tired that he couldn't make it beyond the couch. A nightmare for the enthusiastic triathlete: "After work, I want to do something, get some exercise – in pain, that's impossible." For this reason, he now pays particular attention to comfort when choosing his work shoes. "That way, I'm simply much fitter in the evening," he says.
His extensive training schedule shows how important exercising is for the triathlete: On Mondays, Tuesdays, and Fridays, he does length after length in the pool. On Wednesdays, Fridays, and Sundays, he laces up his running shoes. For discipline number three, he currently has no set times, Christian says. "On the bike, I'm always out at different times, depending on the weather outside, or I ride at home on the exercise bike."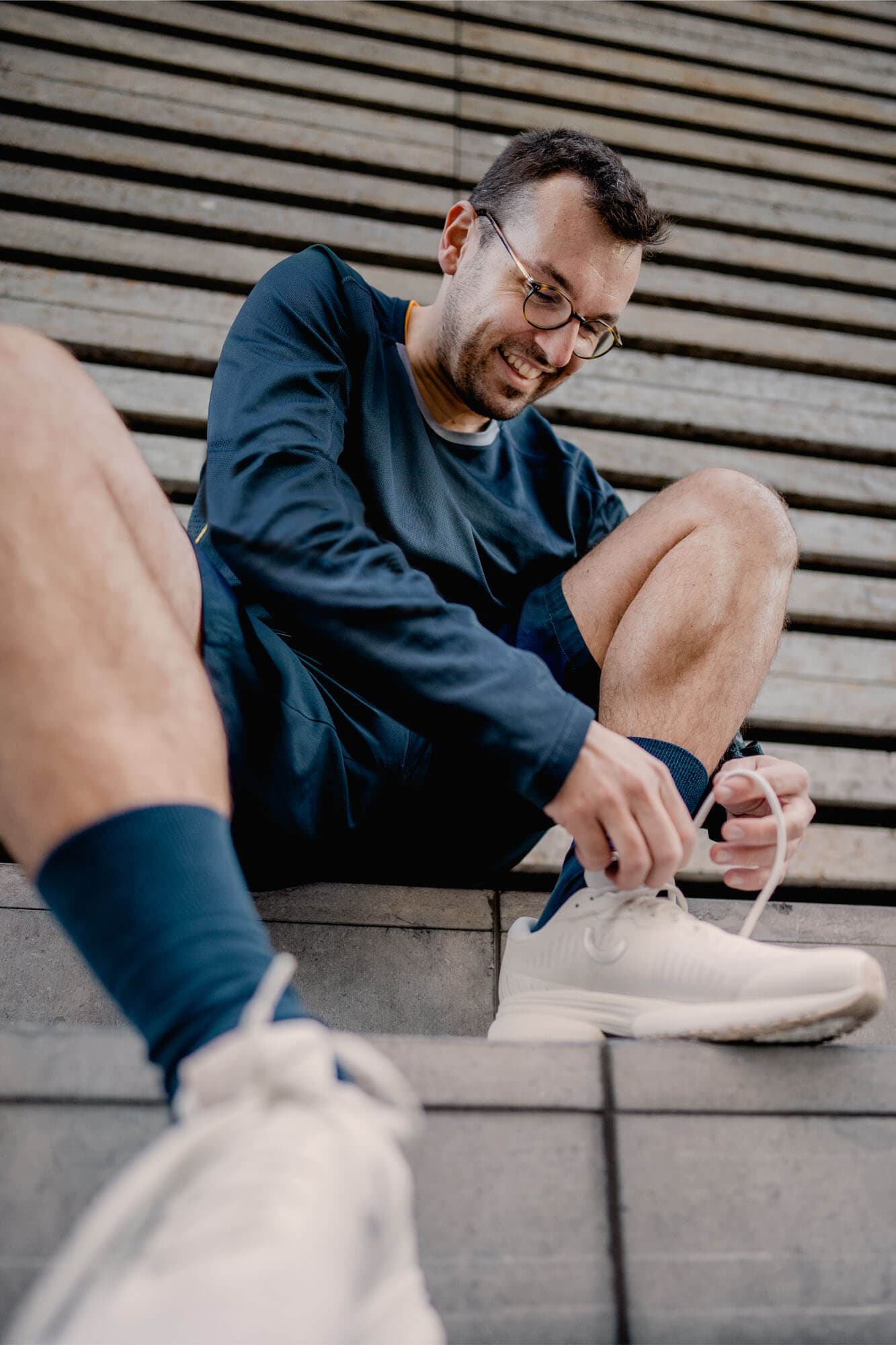 The physician has lived his enthusiasm for sports for a long time. One thing has always been a priority for him – the fun of sports, of training, of exercise. Of course, he wants to get better and faster, but competing with others is not that important to him, Christian says. "First and foremost, I exercise for one reason – because I enjoy it."
It wasn't through his medical studies alone that Christian learned how important physical exercise is for his own physical and mental health. "I've always been able to relax and to come up with new ideas when I'm doing sports," says the 36-year-old. In addition to his love of endurance sports, Christian finds time to relax when cooking and eating with friends. An important setoff for the family doctor – so that he can be there for his patients again with full energy the next morning.
CHAPTER 5: MEET PAULINA,
SPORTS PHYSIOTHERAPIST AND RUNNER
Get to know Paulina, sports physiotherapist and runner. Discover chapter 5 now.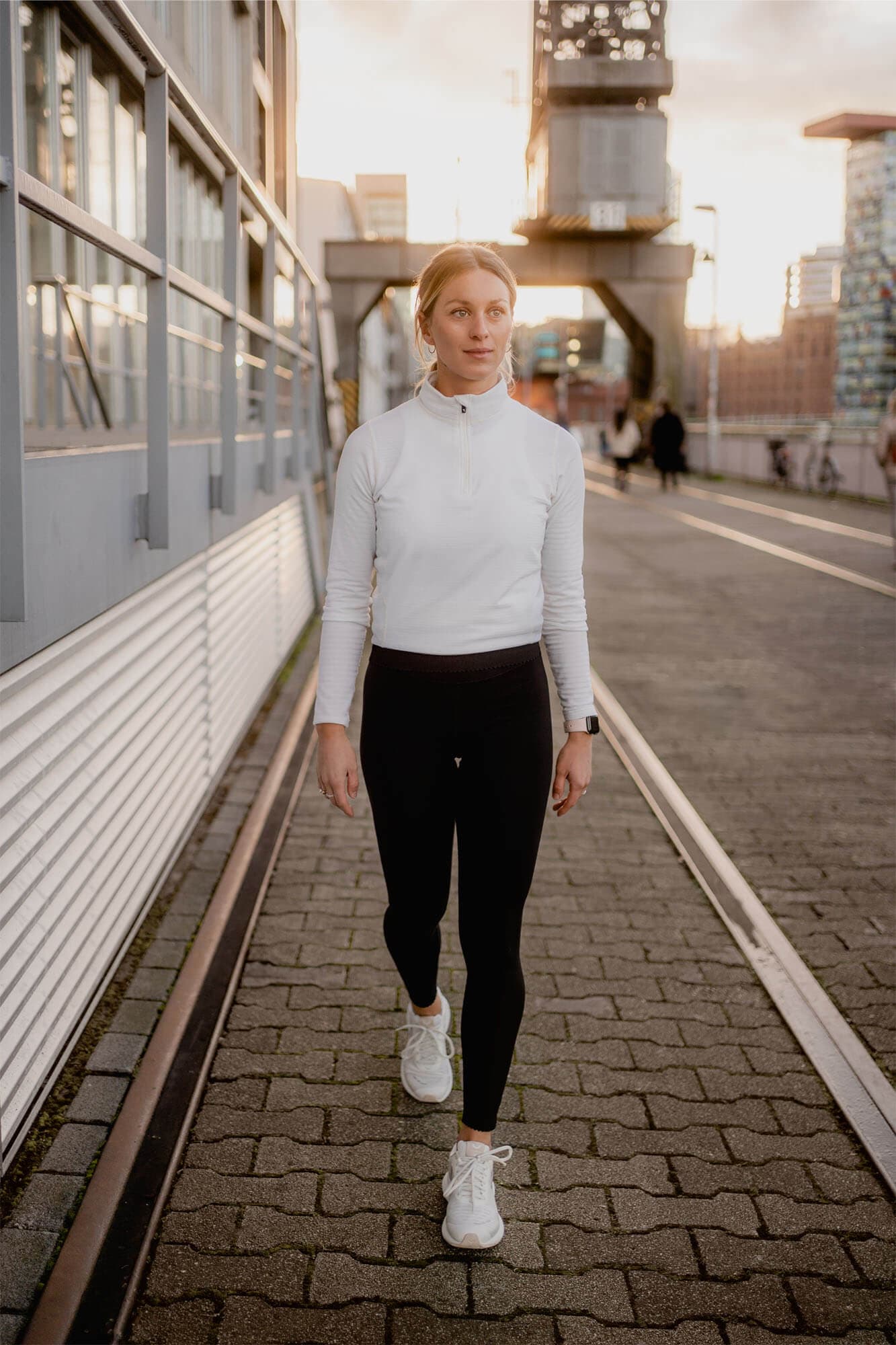 RESEARCH AND DEVELOPMENT:
SCIENTIFICALLY VALIDATED TECHNOLOGIES
Almost 100 % of our technology is derived from scientific findings and biomechanical research. Prof. Dr. Gert-Peter Brüggemann, head of the Institute for Biomechanics and Orthopedics at the German Sports University Cologne for decades, is largely responsible for this. Over the past 25 years, he has been part of numerous innovative running shoe developments – and thus a sought-after expert among the giants of the industry.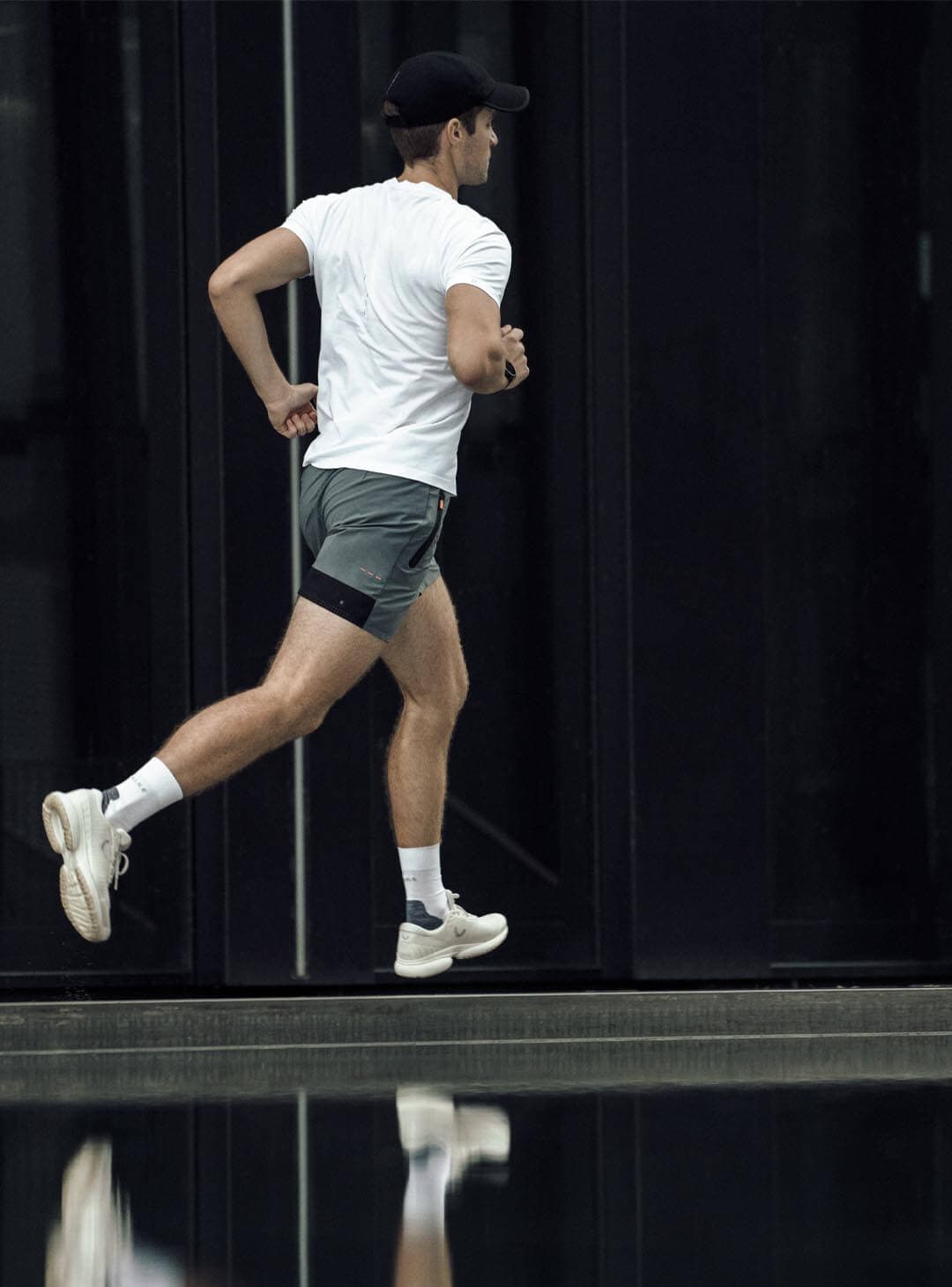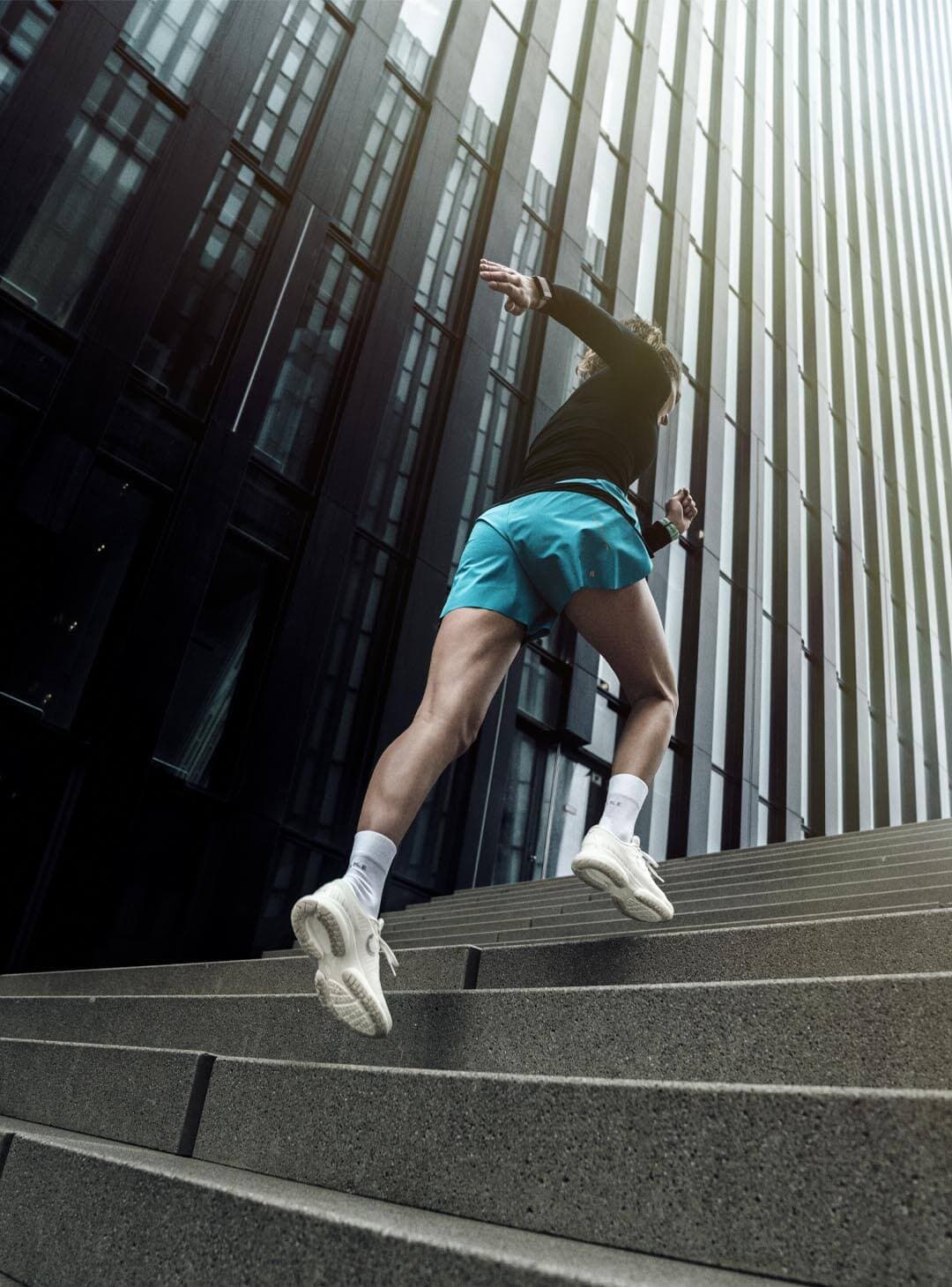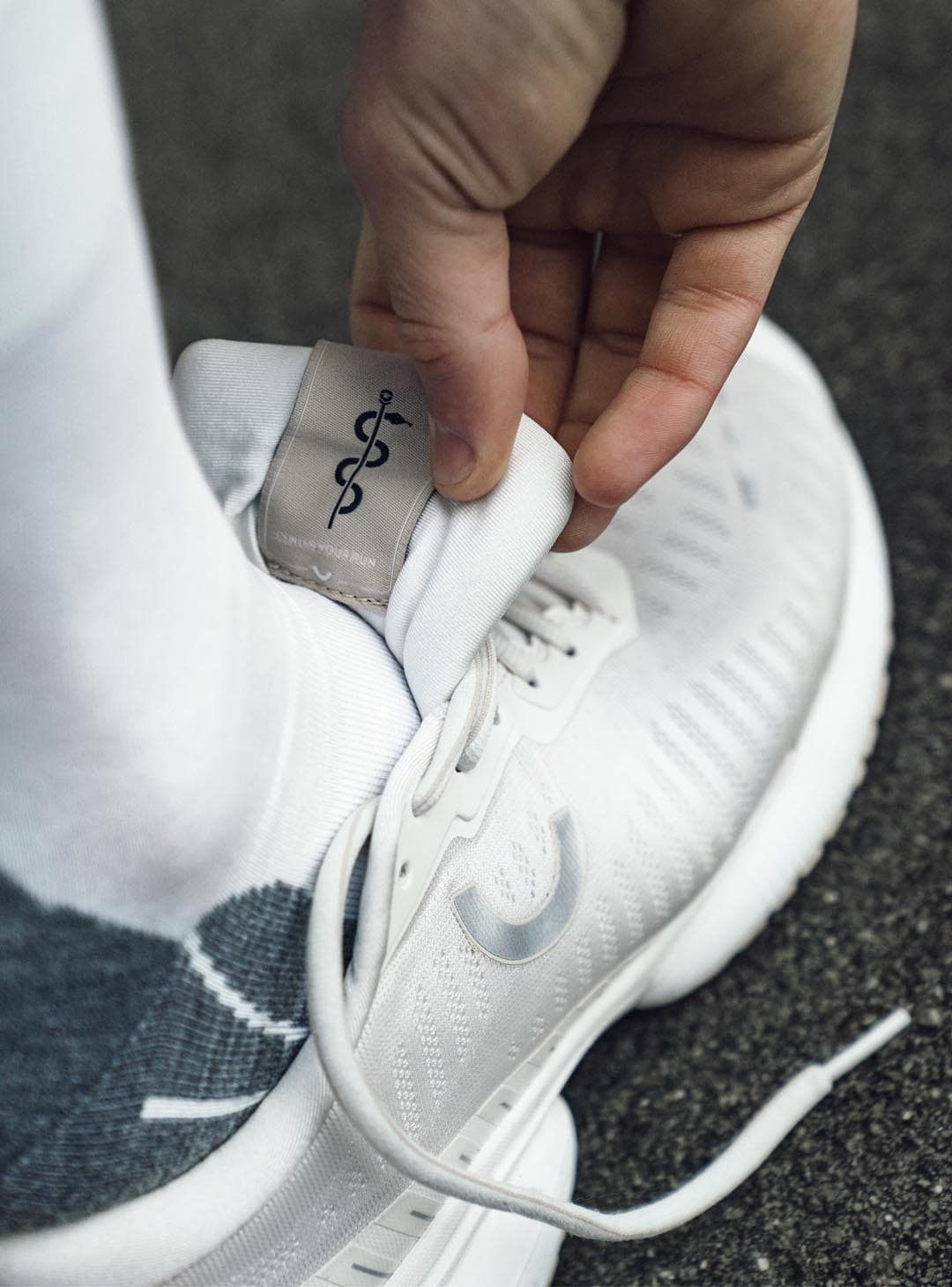 NEVER RUN OUT OF
NEWS
Discover all True Motion stories – and be the first to hear about new products, promotions and events. Simply, center your run!
NEVER RUN OUT OF
NEWS
Discover all True Motion stories – and be the first to hear about new products, promotions and events. Simply, center your run!








NEVER RUN OUT OF NEWS
Discover all True Motion stories – and be the first to hear about new products, promotions and events. Simply, center your run!
FOLLOW US © 2023 True Motion Running GmbH