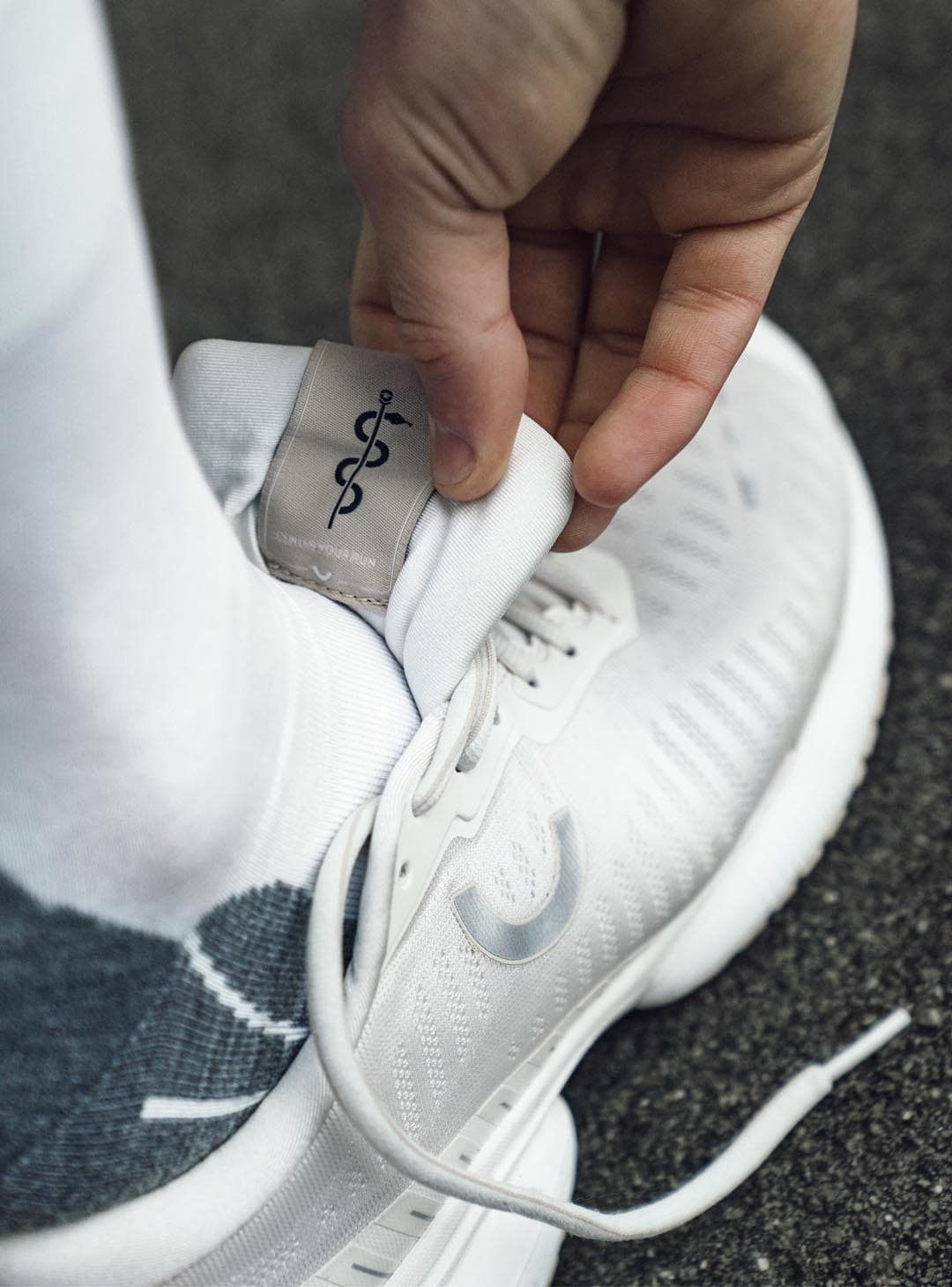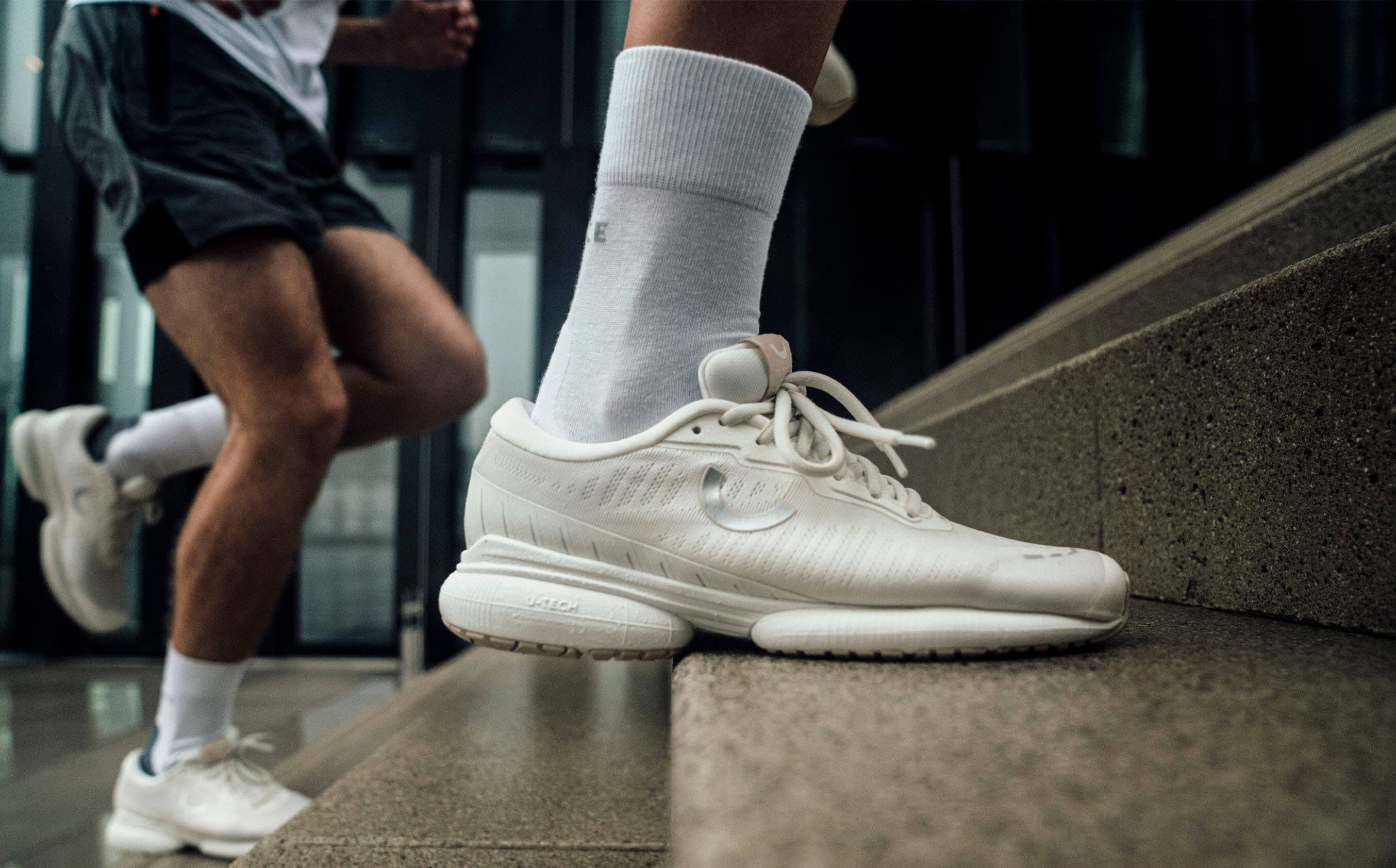 FOR ALL SITUATIONS WHERE YOU COULD
USE SOME RELIEF
The U-TECH White Nevos is our very own answer to the demands of your everyday life. Our first unisex model combines the innovative features of our patented "horseshoe" with a new and elegant colorway – perfectly complementing any outfit on your next city run and a loyal companion for medical personnel. Our U-TECH™ technology centers forces not only for runners but also for all who spend many hours on their feet and are constantly in motion. That way, as a nurse or a doctor you can focus fully on your job while enjoying heavenly comfort and less strain on the go. Meet people who feel the same way you do – read our UNIQUE U-TECH stories below.
– CHAPTER 1 –
TRIATHLETIN UND UNFALLCHIRURGIN:
"JEDER TAG IST EINE ÜBERRASCHUNG"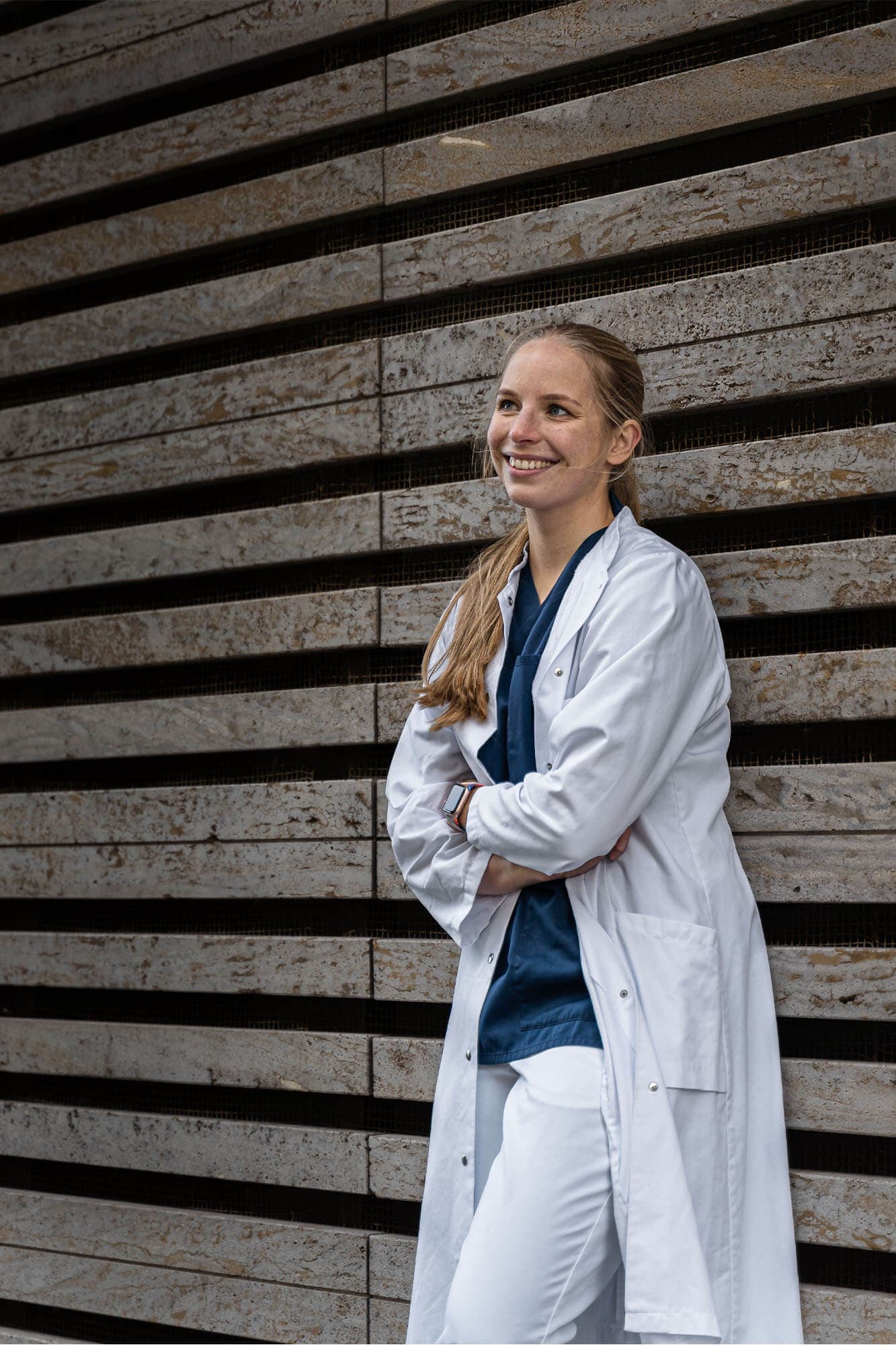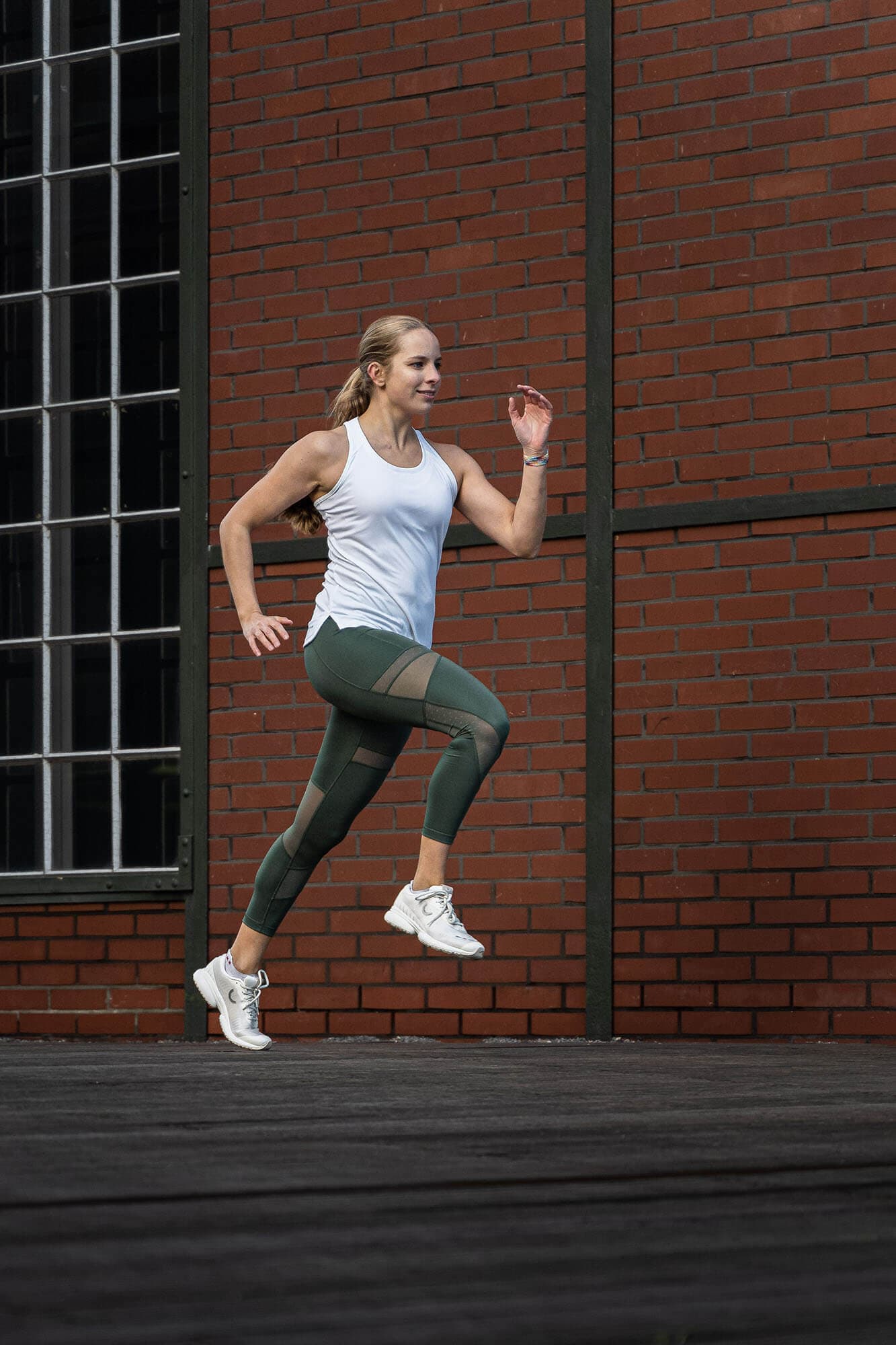 Stundenlang läuft Daniela Wiefhoff durch die Flure und Gänge des Johanna-Etienne-Krankenhauses in Neuss. Die 28-Jährige ist Assistenzärztin für Orthopädie und Unfallchirurgie. "Während der Arbeit funktioniere ich einfach", sagt sie. Was zählt, sind ihre Patient*innen. Ihre eigenen Bedürfnisse? Stellt sie dafür hinten an. Ein Portrait einer Ärztin, die die hohen Arbeitsbelastungen und den mentalen Stress mit Triathlon-Einheiten bewältigt.
– CHAPTER 2 –
FACHKRANKENPFLEGER UND LÄUFER:
"OFTMALS SIND ES DIE KLEINEN GESTEN, DIE ZÄHLEN"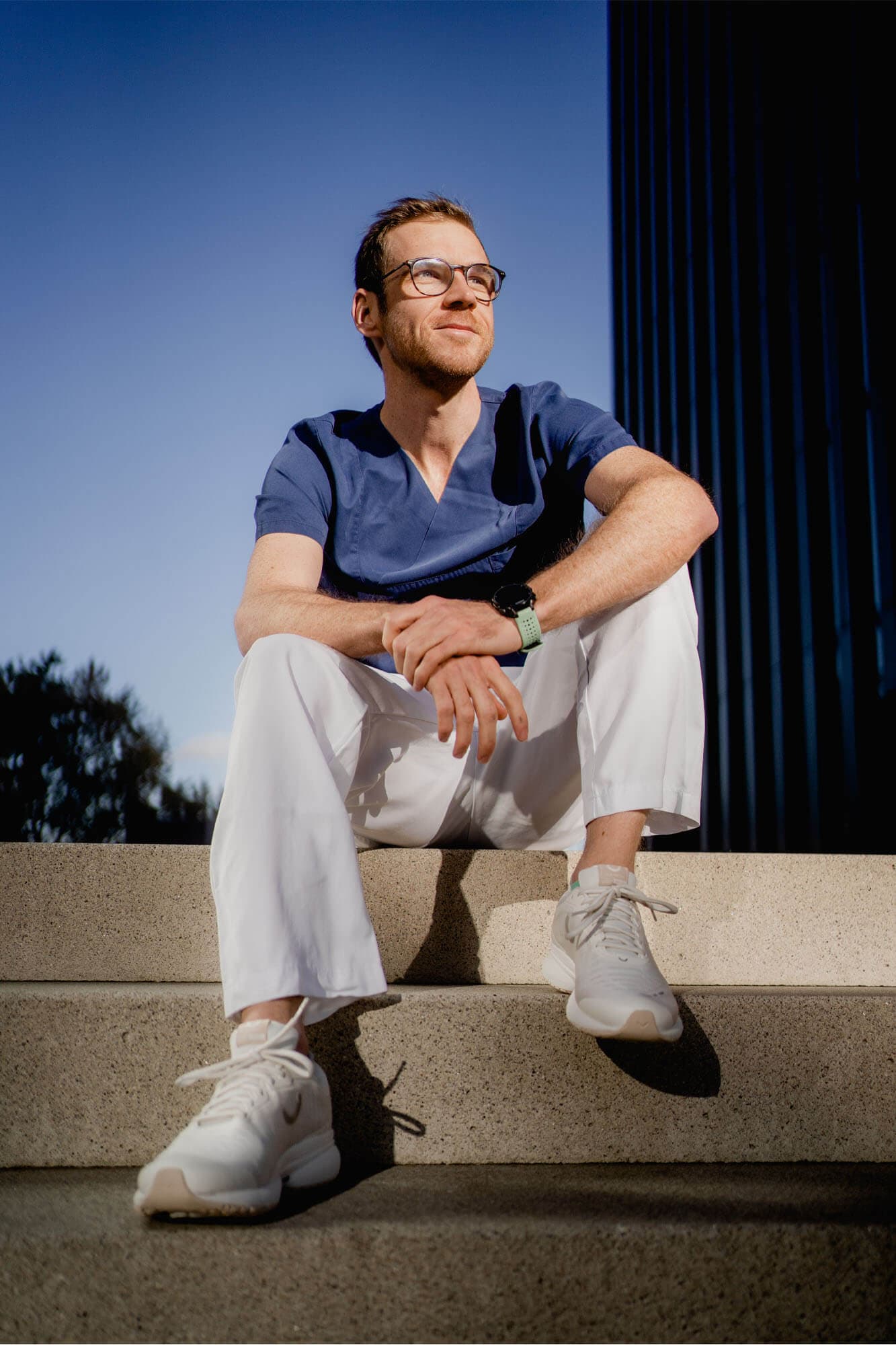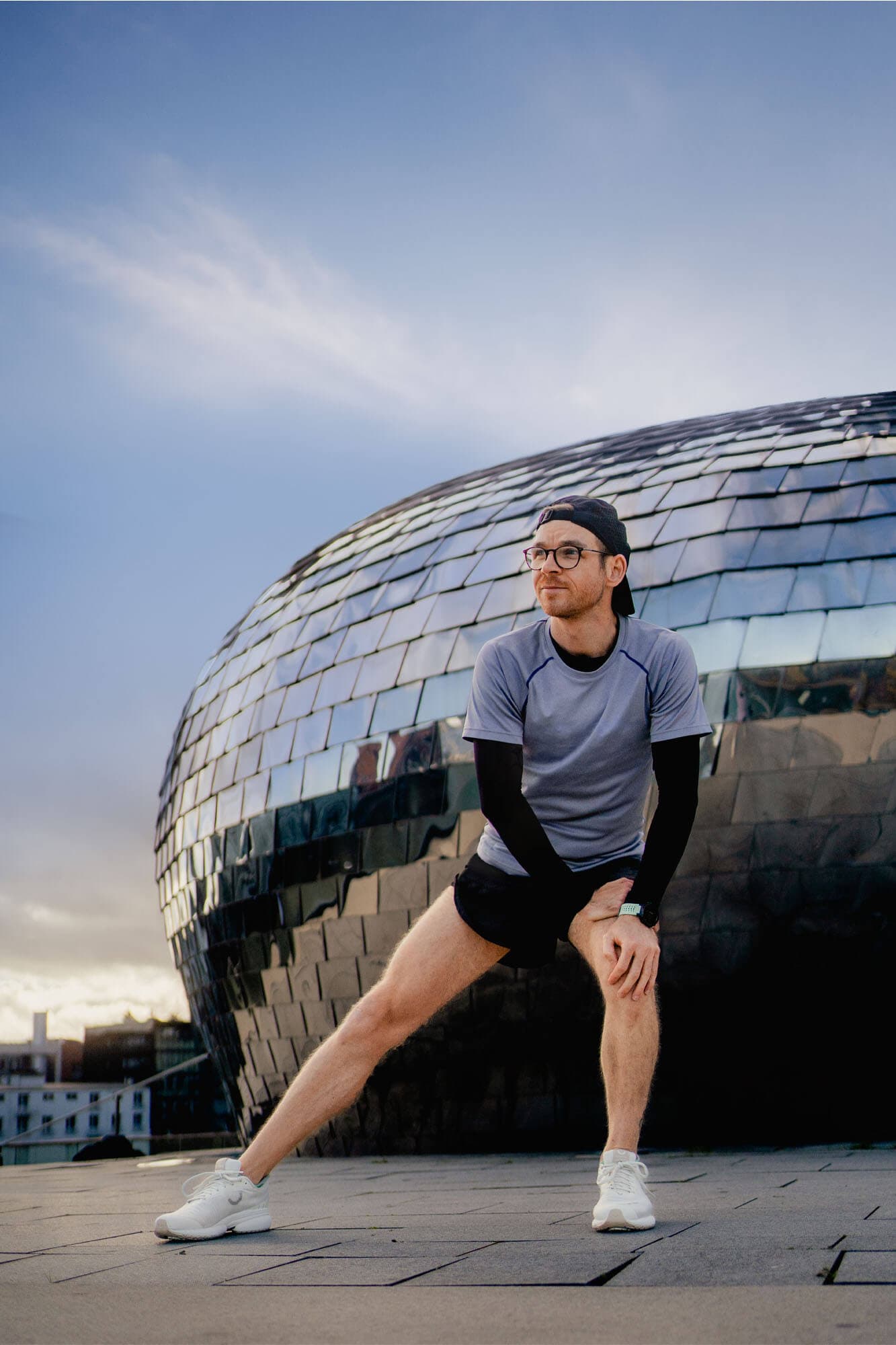 Frühmorgens beginnt für Oliver Schiffer der Arbeitstag, um 6:00 Uhr startet sein Frühdienst im Lukaskrankenhaus in Neuss. Für den 31-Jährigen heißt das: die nächsten acht Stunden für die Patient*innen auf der operativen Intensivstation da sein – nicht nur medizinisch, sondern vor allem auch zwischenmenschlich. "So anstrengend der Beruf sein kann, so viel gibt er mir auch zurück", sagt der Fachkrankenpfleger für Anästhesie und Intensiv. Ein Portrait.
– CHAPTER 3 –
REITTHERAPEUTIN UND HEILERZIEHUNGSPFLEGERIN:
REITTHERAPEUTIN UND HEILERZIEHUNGS-PFLEGERIN:
"ES GIBT NICHTS SCHÖNERES, ALS DIE ENTWICKLUNG UND FORTSCHRITTE DER KINDER ZU SEHEN"
"ES GIBT NICHTS SCHÖNERES, ALS DIE ENTWICKLUNG UND FORTSCHRITTE DER KINDER ZU SEHEN"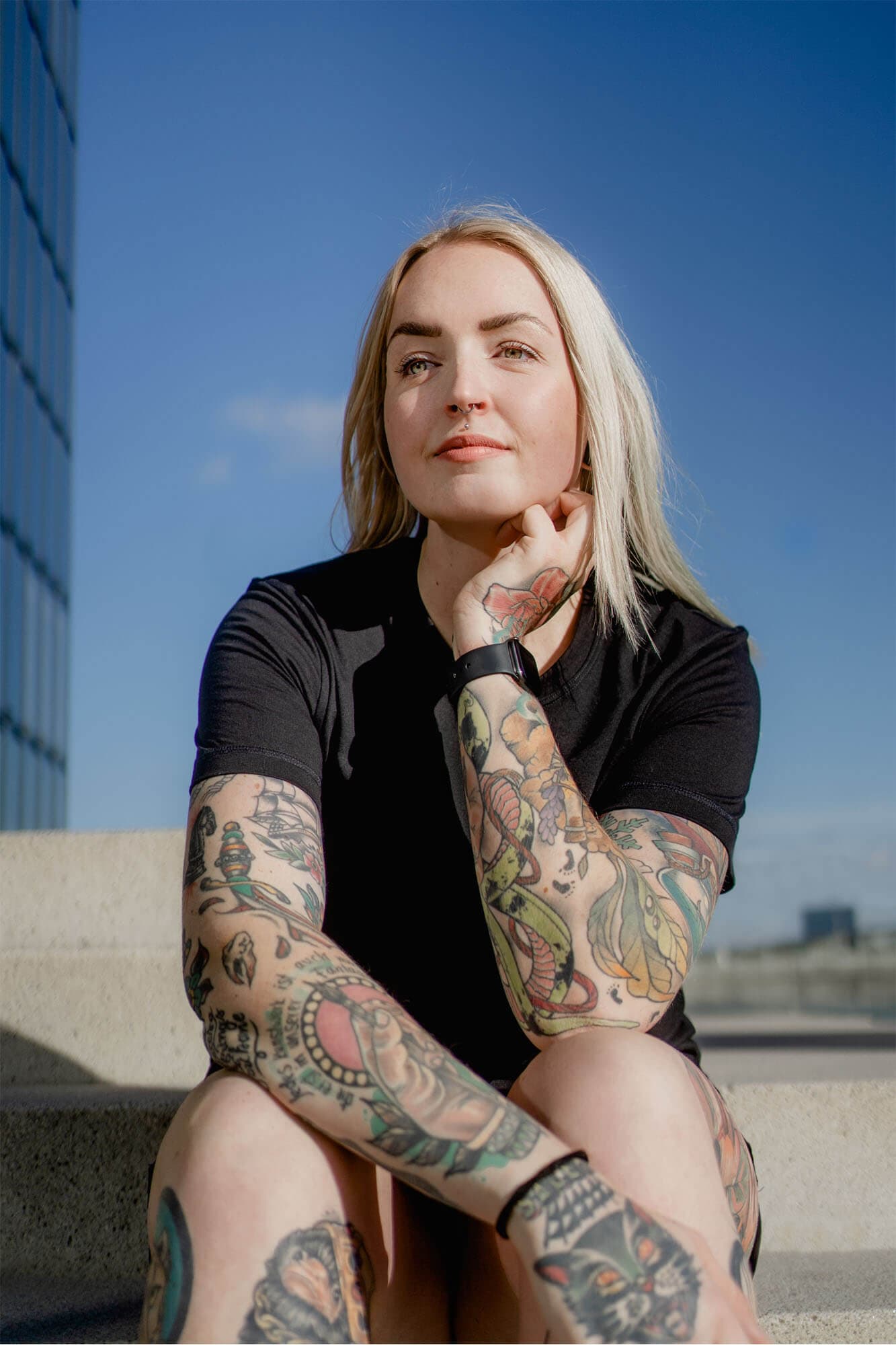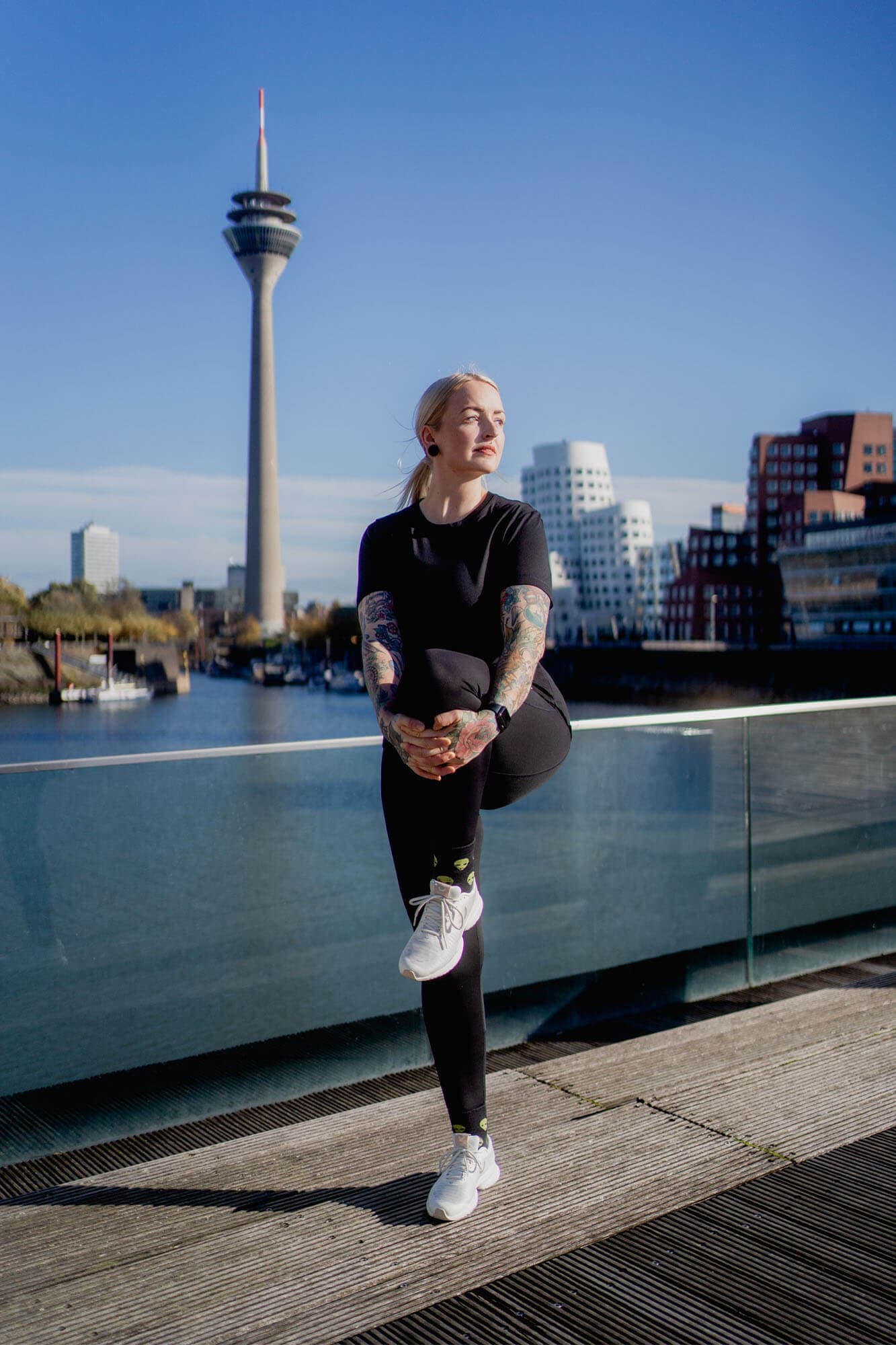 Nina Schulte ist schon einige Stunden im Dienst, wenn für die meisten von uns der Tag beginnt. Während ihres 24-Stunden-Dienstes ist die Heilerziehungspflegerin aus Köln für die Betreuung von sieben psychisch oder physisch beeinträchtigten Kindern und Jugendlichen zuständig, die alle zusammen in einer Wohngruppe leben. "Es ist immer etwas los, kein Tag gleicht dem anderen – obwohl wir versuchen, feste Strukturen zu etablieren", sagt die 27-Jährige. Ein Portrait.
– CHAPTER 4 –
ARZT UND TRIATHLET:
"DER ARZTBERUF HAT MICH VON KLEIN AUF FASZINIERT"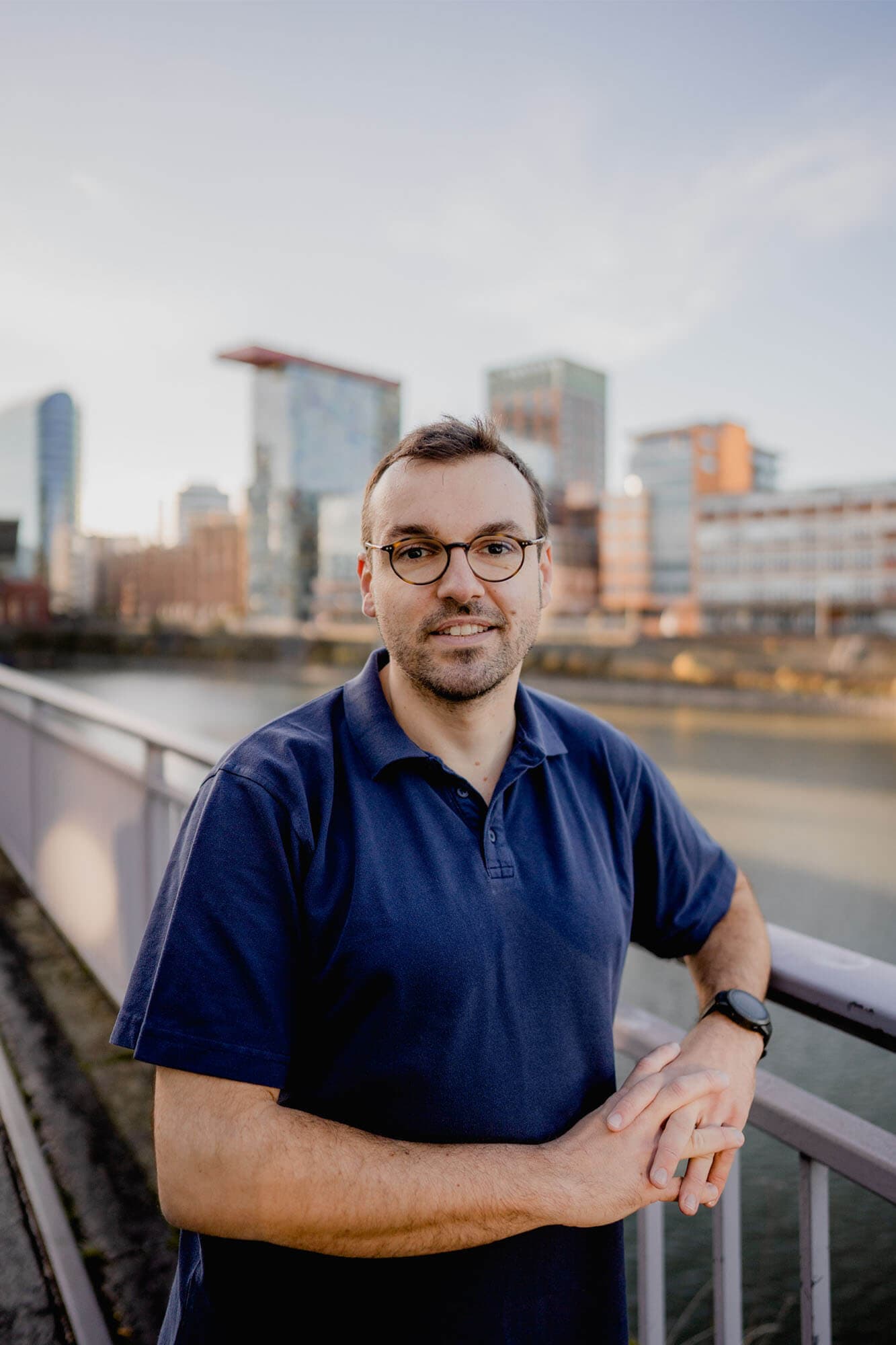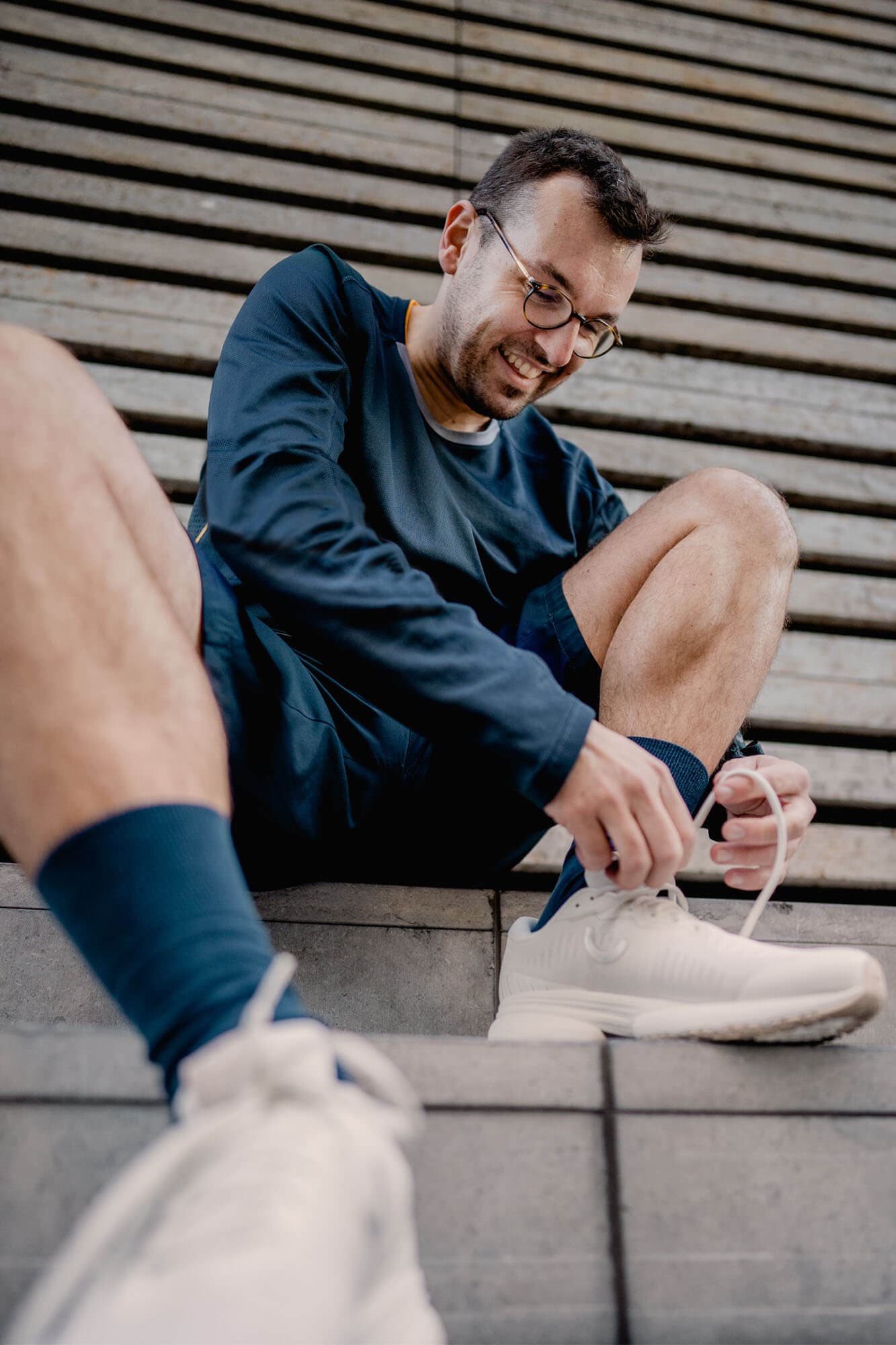 An einem normalen Arbeitstag ist Christian Burger oft zwölf Stunden und mehr auf den Beinen, danach geht es zum Sport. Der Facharzt für Innere Medizin behandelt zusammen mit seinem Vater in der gemeinsamen Arztpraxis im Düsseldorfer Norden täglich zahlreiche Patient*innen – einige mit Terminen, die meisten allerdings ohne. "Wer krank ist, kommt vorbei. Als Hausärzte sind wir die ersten Ansprechpartner – da muss es möglichst unkompliziert ablaufen", sagt der 36-Jährige.
– CHAPTER 5 –
SPORTPHYSIOTHERAPEUTIN UND LÄUFERIN:
"WIE SEHR DER JOB DICH KÖRPERLICH BELASTET, HAST DU SELBST IN DER HAND"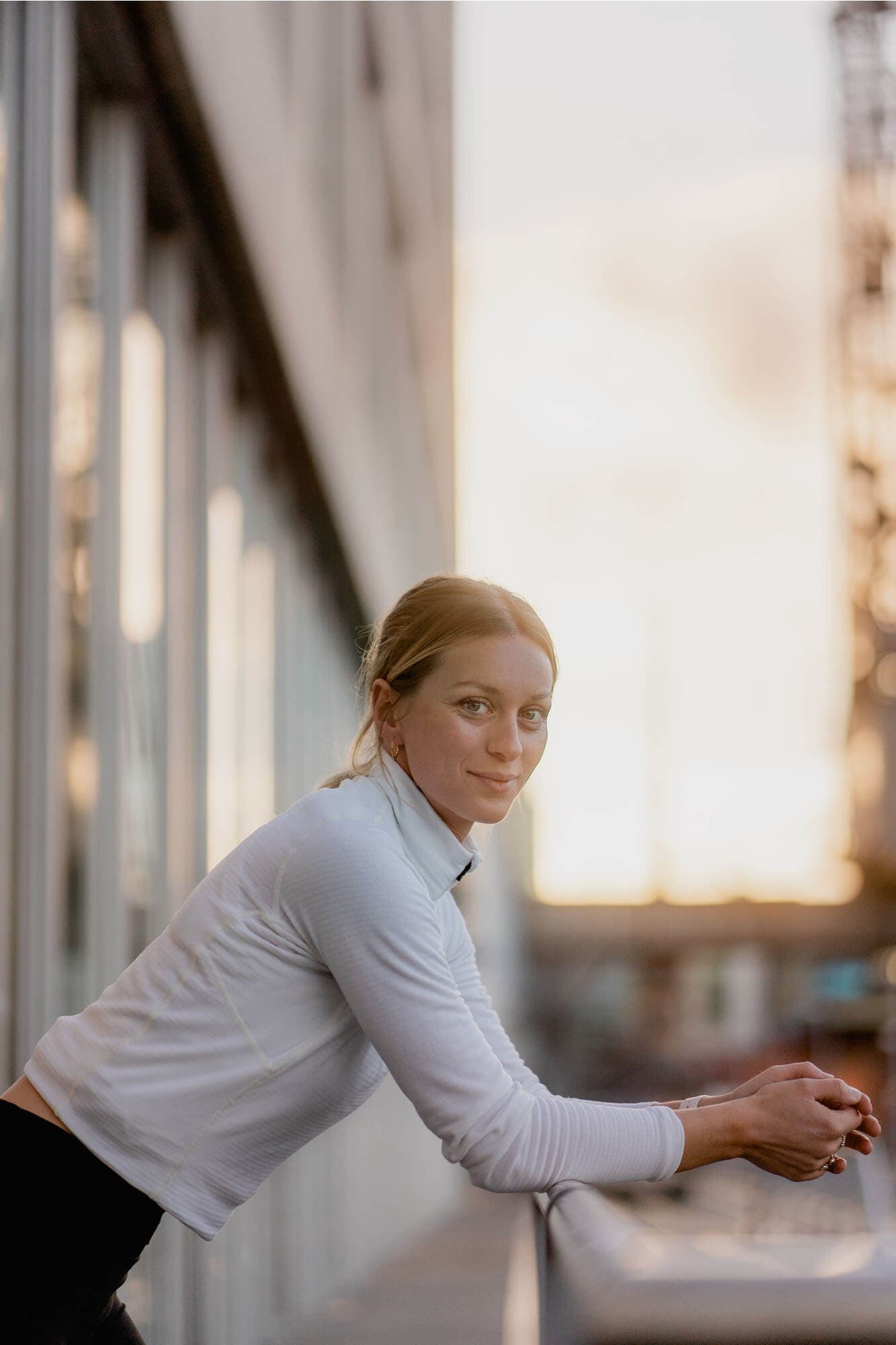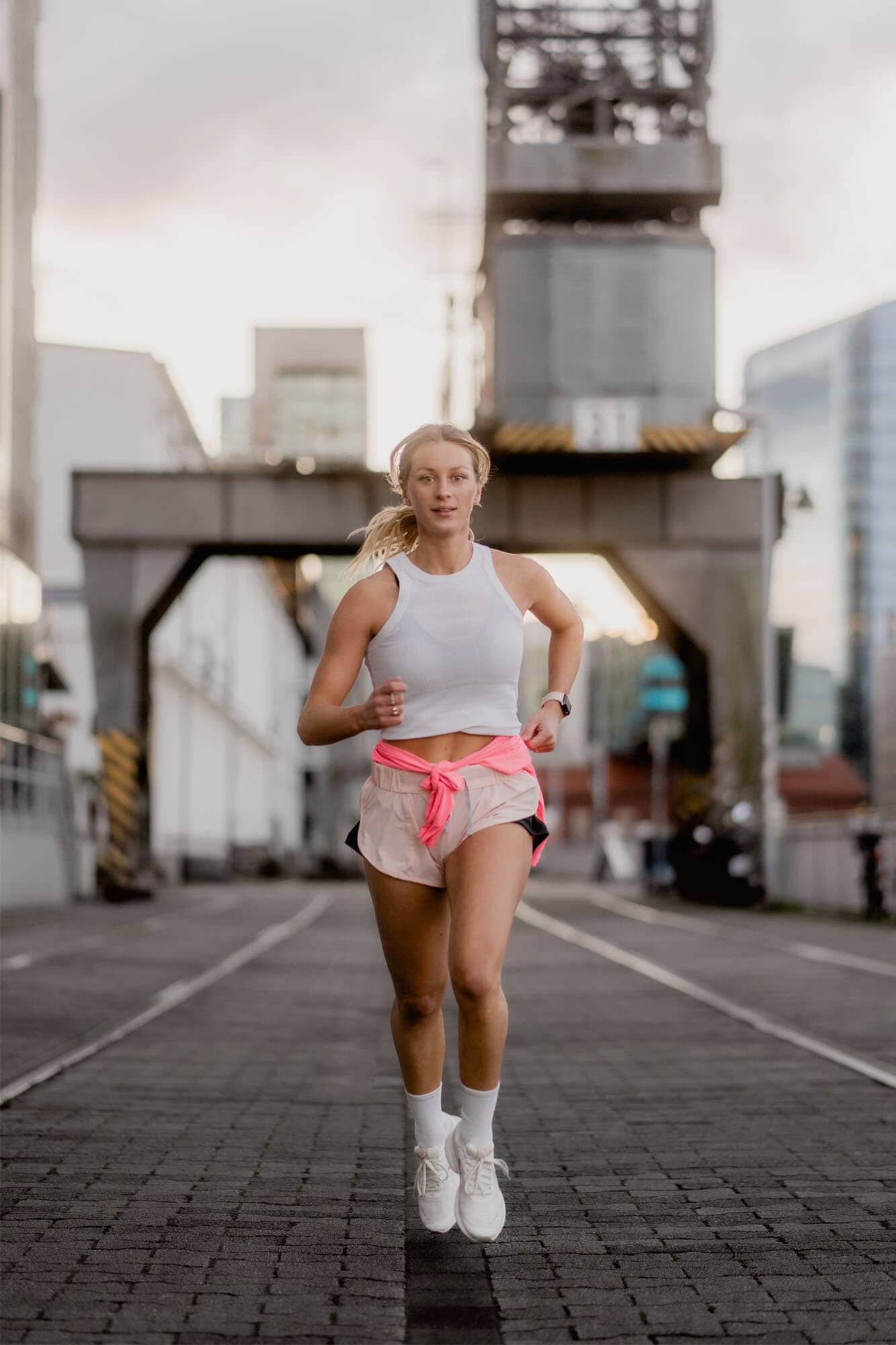 Ein normaler Arbeitsalltag startet für Paulina Kohlhaas früh am Morgen, viele ihrer Patient*innen müssen nach der Behandlung direkt weiter zur Arbeit. Die Sportphysiotherapeutin arbeitet freiberuflich in einer Physiotherapiepraxis. Hier behandelt die 26-jährige Sportler*innen, die aus einer Verletzung kommen, sich im Aufbautraining befinden oder Stabilisationstraining benötigen. So verschieden die Menschen sind, mit denen sie täglich zu tun hat, so verschieden sind auch deren Verletzungen. "Jeden Tag sehe ich neue Krankheitsbilder, die Behandlungsmethoden verändern sich stetig – in der Physiotherapie lernst du nie aus", erzählt sie.
– CHAPTER 6 –
OSTEOPATH AND RUNNER:
"YOU NEVER STOP LEARNING – THE THERAPEUTIC TOOLBOX KEEPS FILLING UP"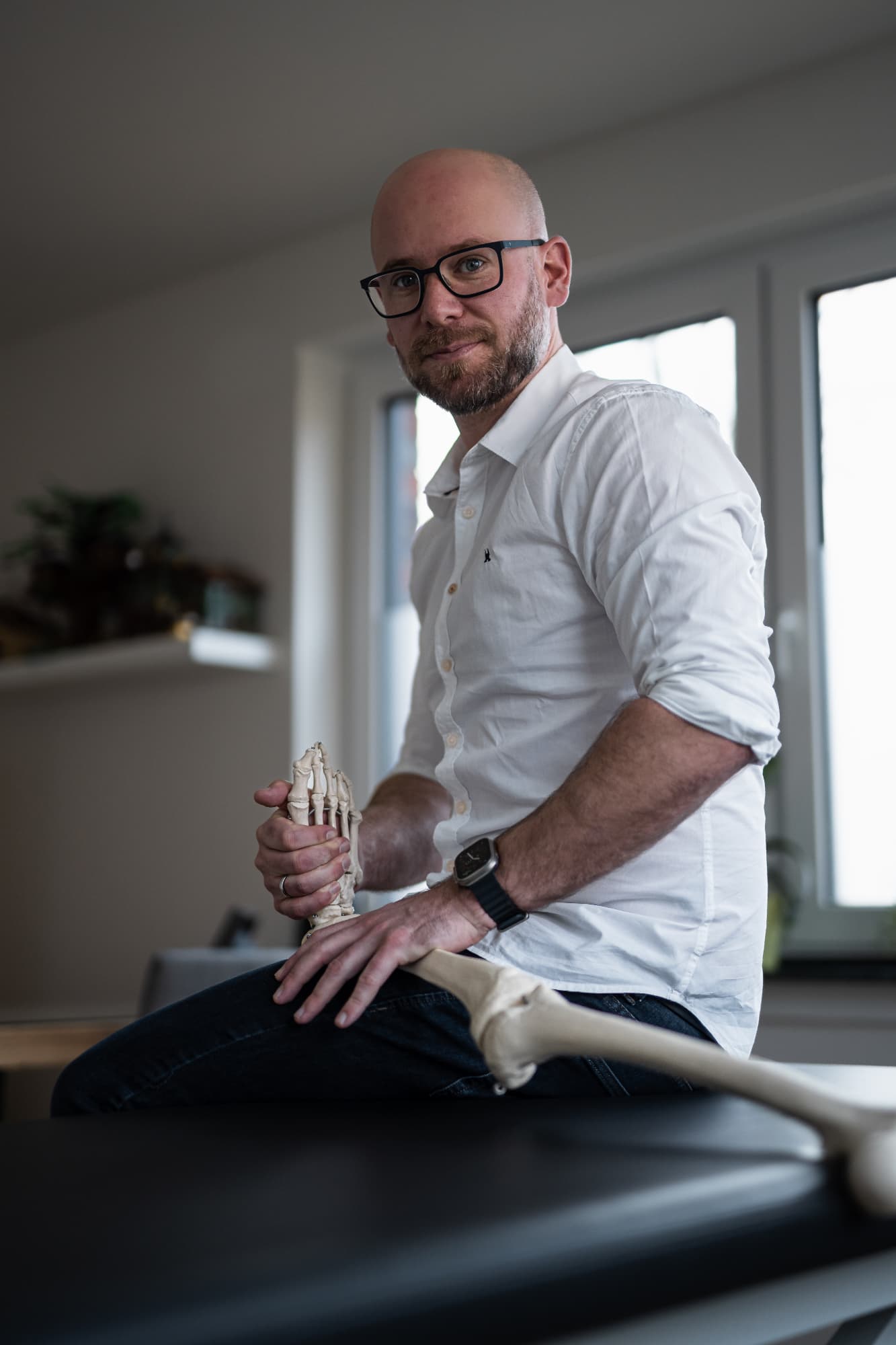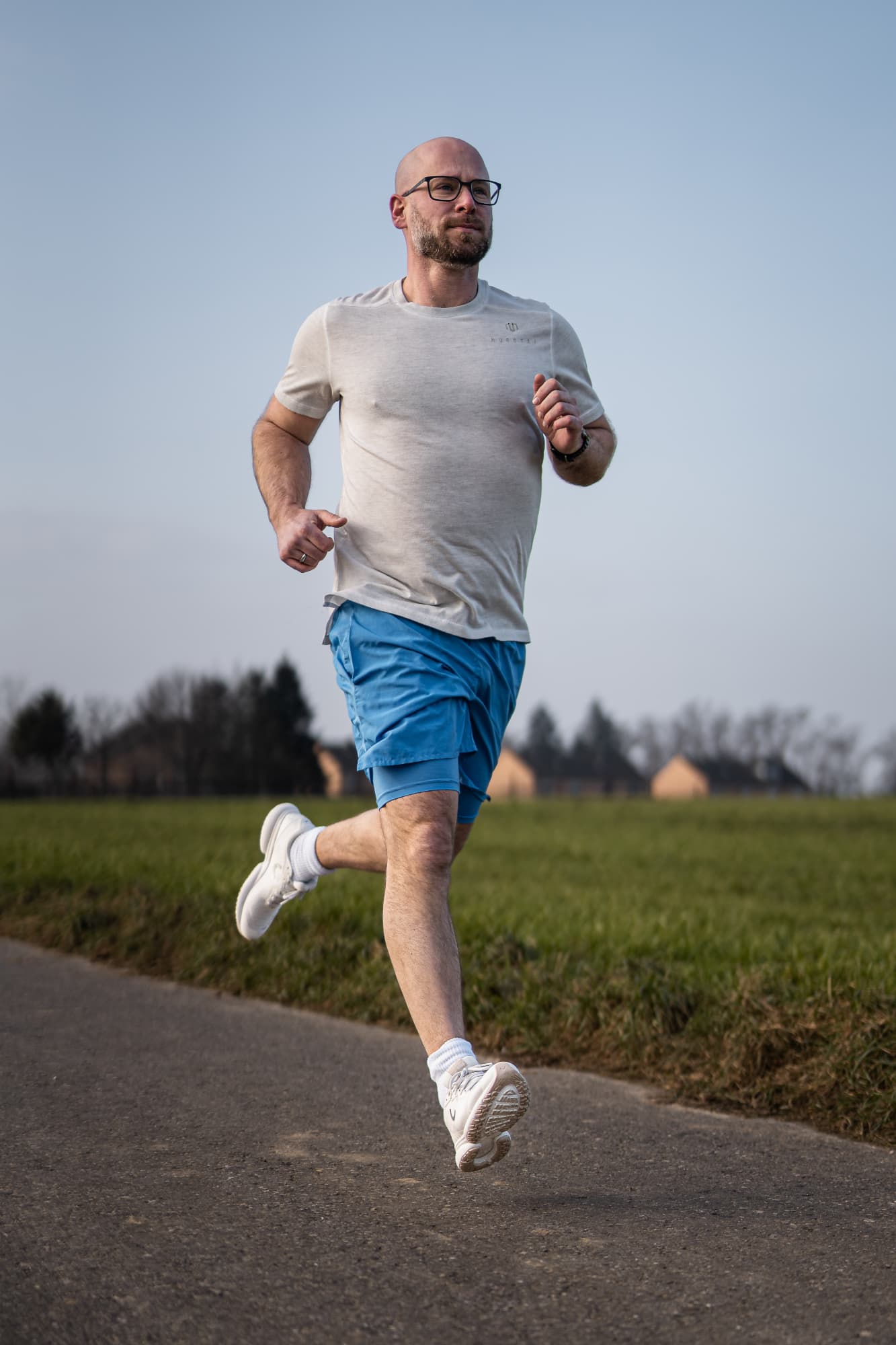 For Andreas Nelles, the day begins early in the morning: at 6 am. It's not until twelve hours later that the door slams shut again. Together with two colleagues, the osteopath and alternative practitioner runs a practice for individual therapy in Jülich, North Rhine-Westphalia. A name that keeps its promise. "Every patient and every medical condition is different, and a wide variety of factors determine the most suitable treatment for each patient individually," the 41-year-old says.
– CHAPTER 7 –
SPORTS THERAPIST AND RUNNER:
"OUR GOAL IS TO HELP PATIENTS REGAIN SOME QUALITY OF LIFE"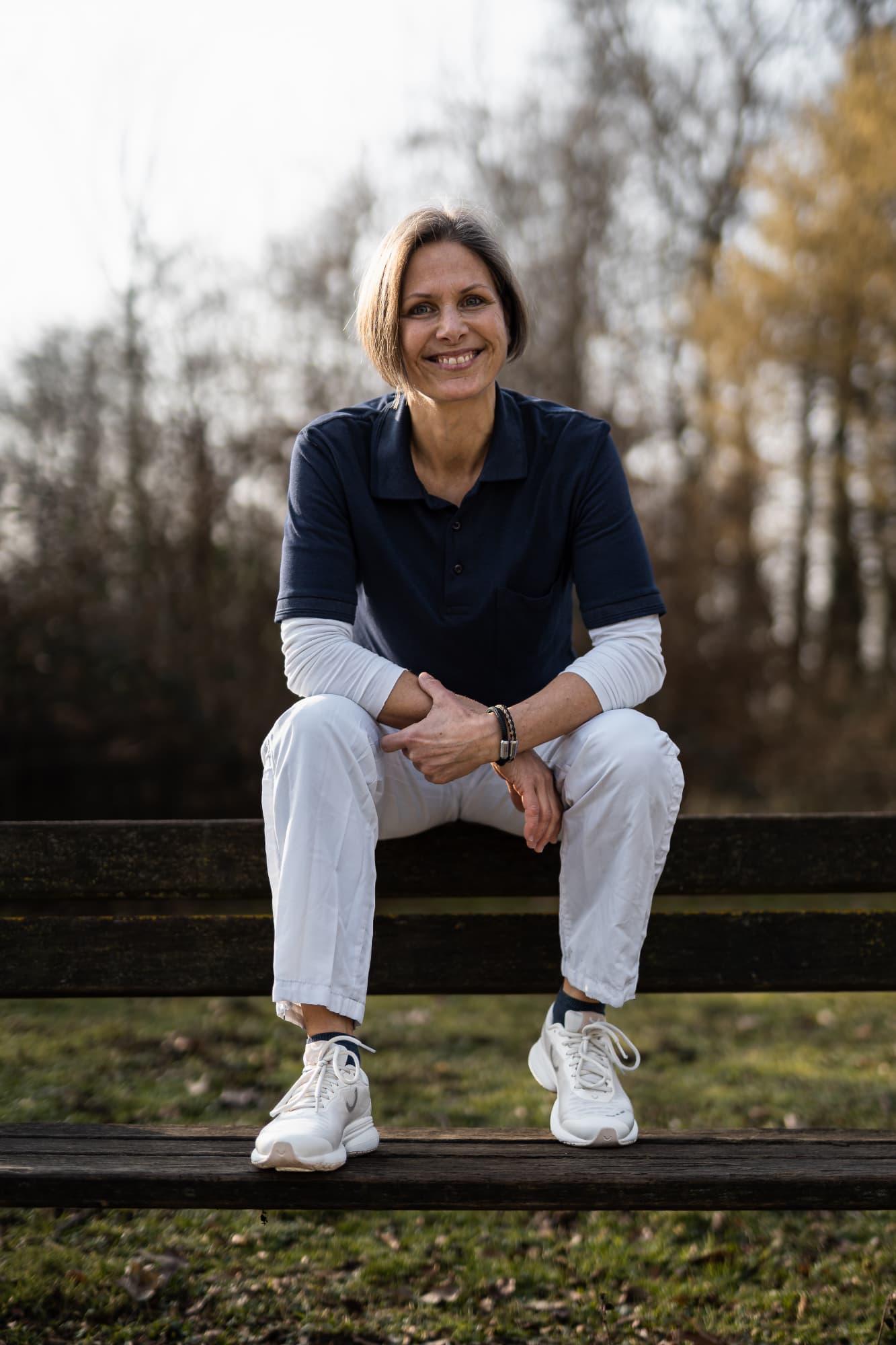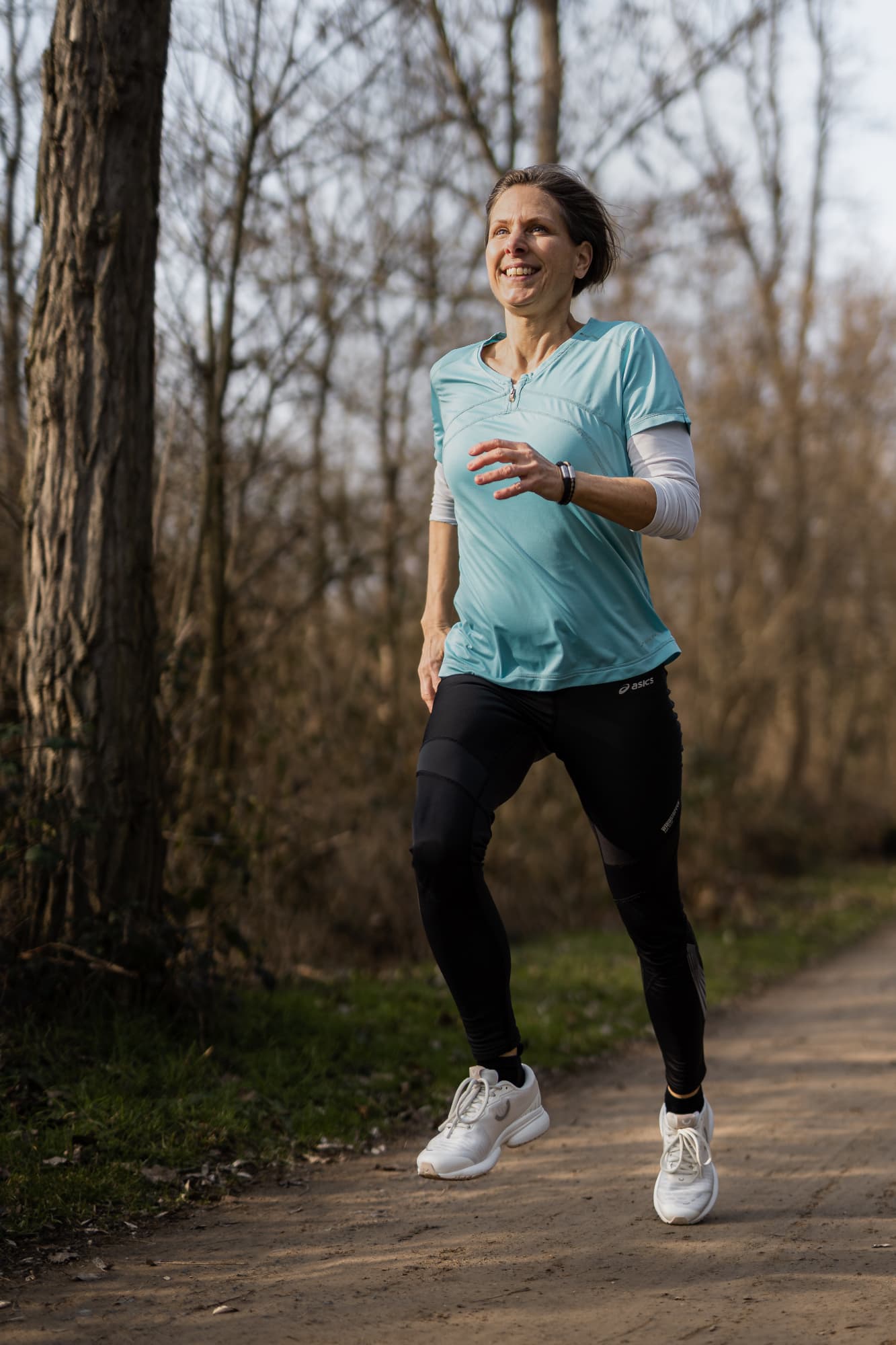 For 22 years, Gabi Böhle has been involved in the rehabilitation of neurologically impaired patients. As a sports therapist, she leads group therapy measures at St. Mauritius Therapy Clinic in Meerbusch. Her patients suffer from neurological diseases and are recovering from strokes or traumatic brain injuries, for example. "First and foremost, the aim is to reintroduce those affected to everyday movements," explains the 52-year-old.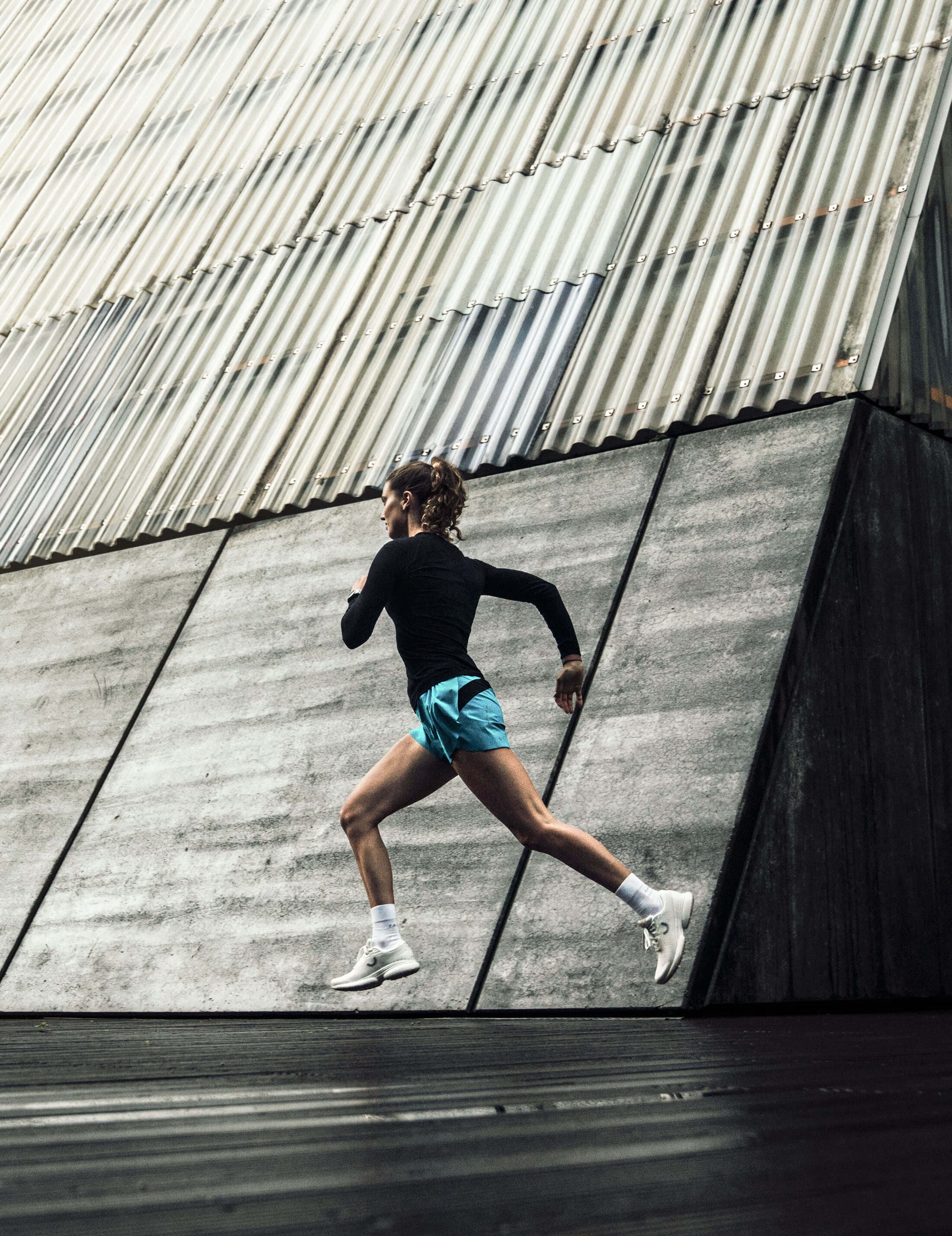 UNIVERSAL. UNIQUE. UNICOLORED.
FOR THE DEMANDS OF EVERYDAY LIFE
Der U-TECH White Nevos ist unsere ganz persönliche Lösung für die Anforderungen deines Alltags – beispielsweise als Teil des medizinischen Personals in Kliniken oder Praxen. Damit du dich als Pfleger*in, Therapeut*in, Ärztin oder Arzt ganz auf deine Arbeit konzentrieren kannst. Als Symbol für die Herausforderungen und als Zeichen der Dankbarkeit haben wir deswegen eine medizinische Schlange, einen Äskulapstab, auf die Zunge jedes U-TECH White Nevos genäht. Erlebe Komfort und weniger Belastung in den Momenten, in denen du Unterstützung brauchst.
RESEARCH AND DEVELOPMENT:
SCIENTIFICALLY VALIDATED TECHNOLOGIES
Almost 100 % of our technology is derived from scientific findings and biomechanical research. Prof. Dr. Gert-Peter Brüggemann, head of the Institute for Biomechanics and Orthopedics at the German Sports University Cologne for decades, is largely responsible for this. Over the past 25 years, he has been part of numerous innovative running shoe developments – and thus a sought-after expert among the giants of the industry.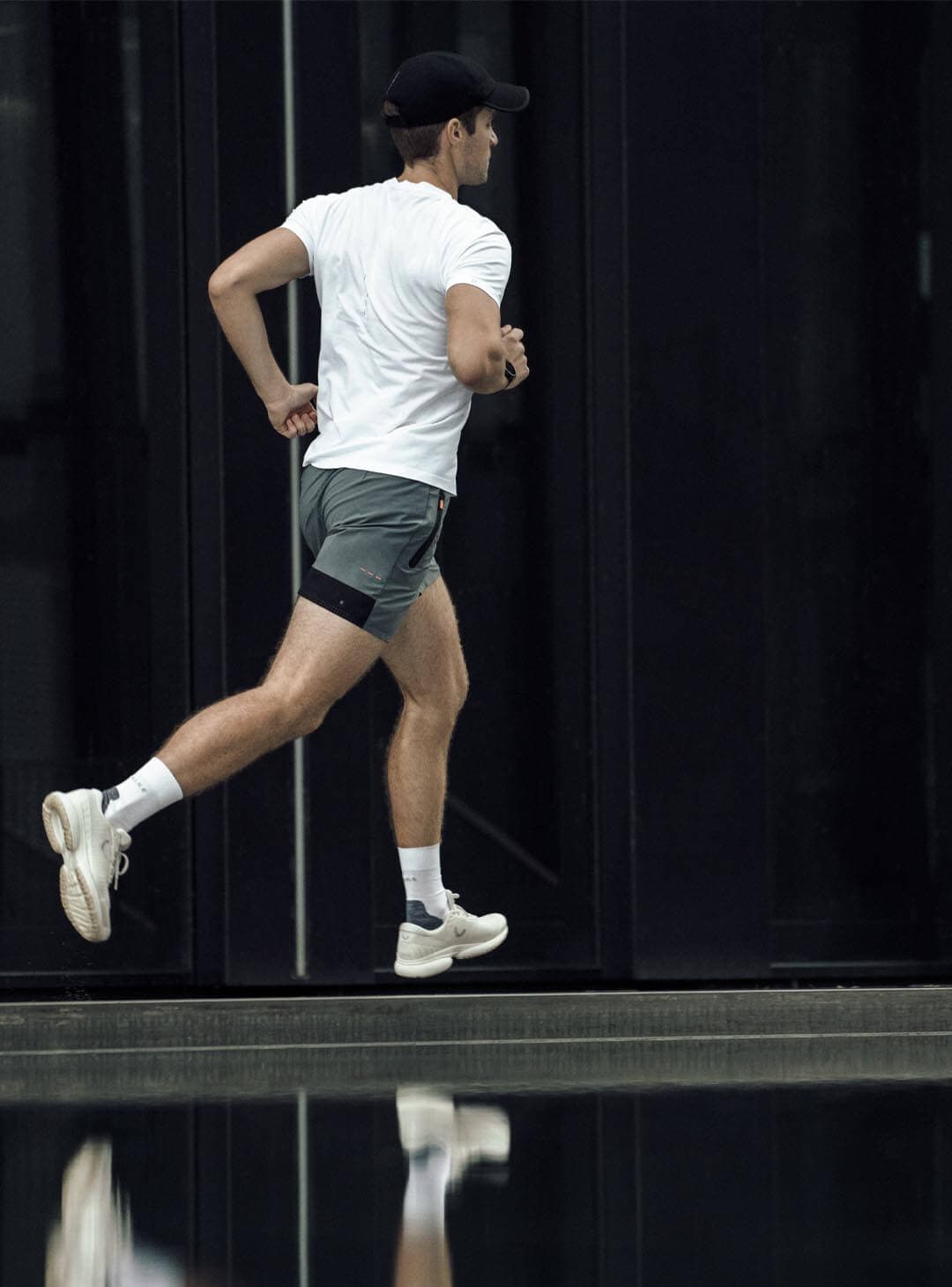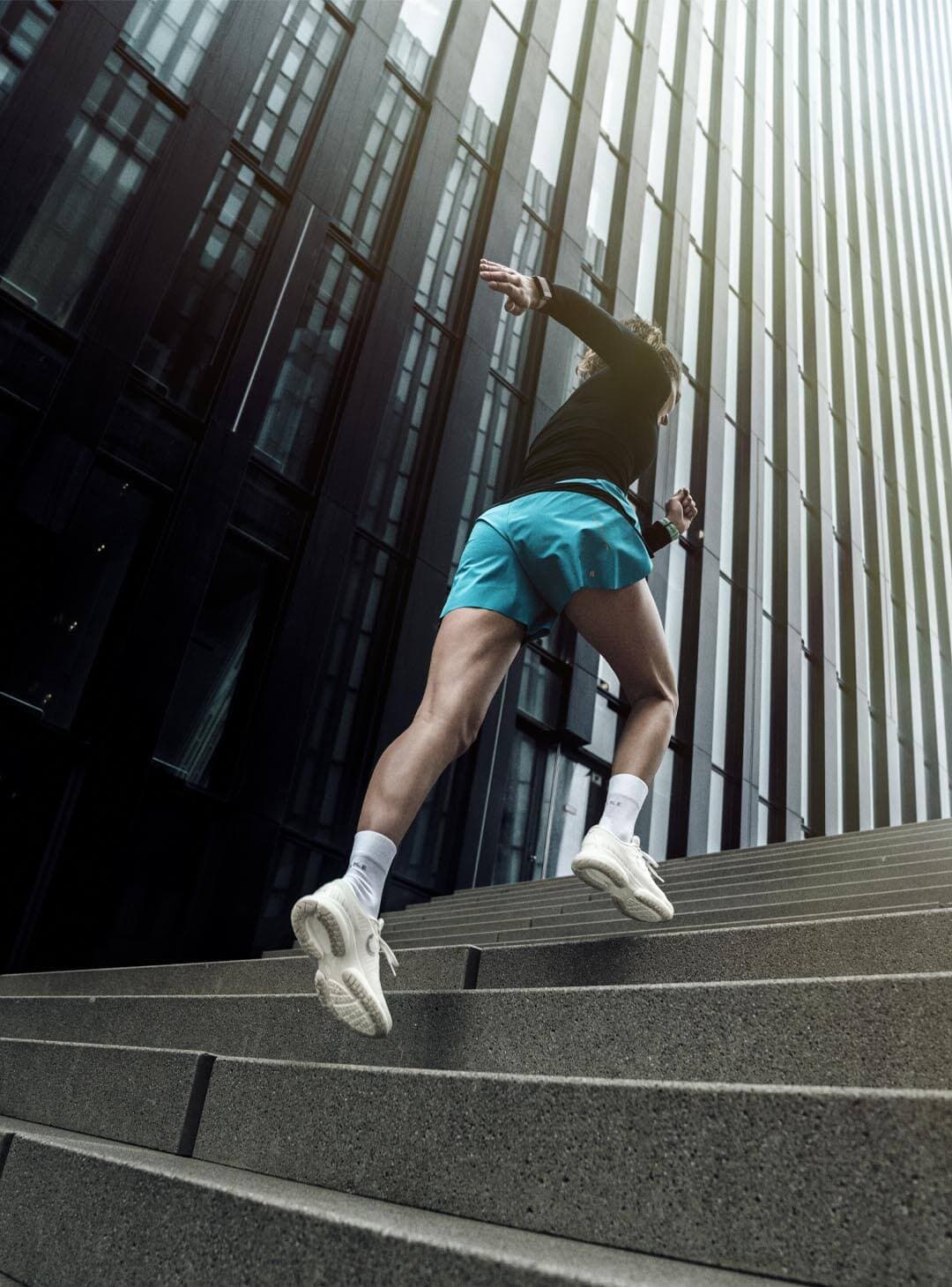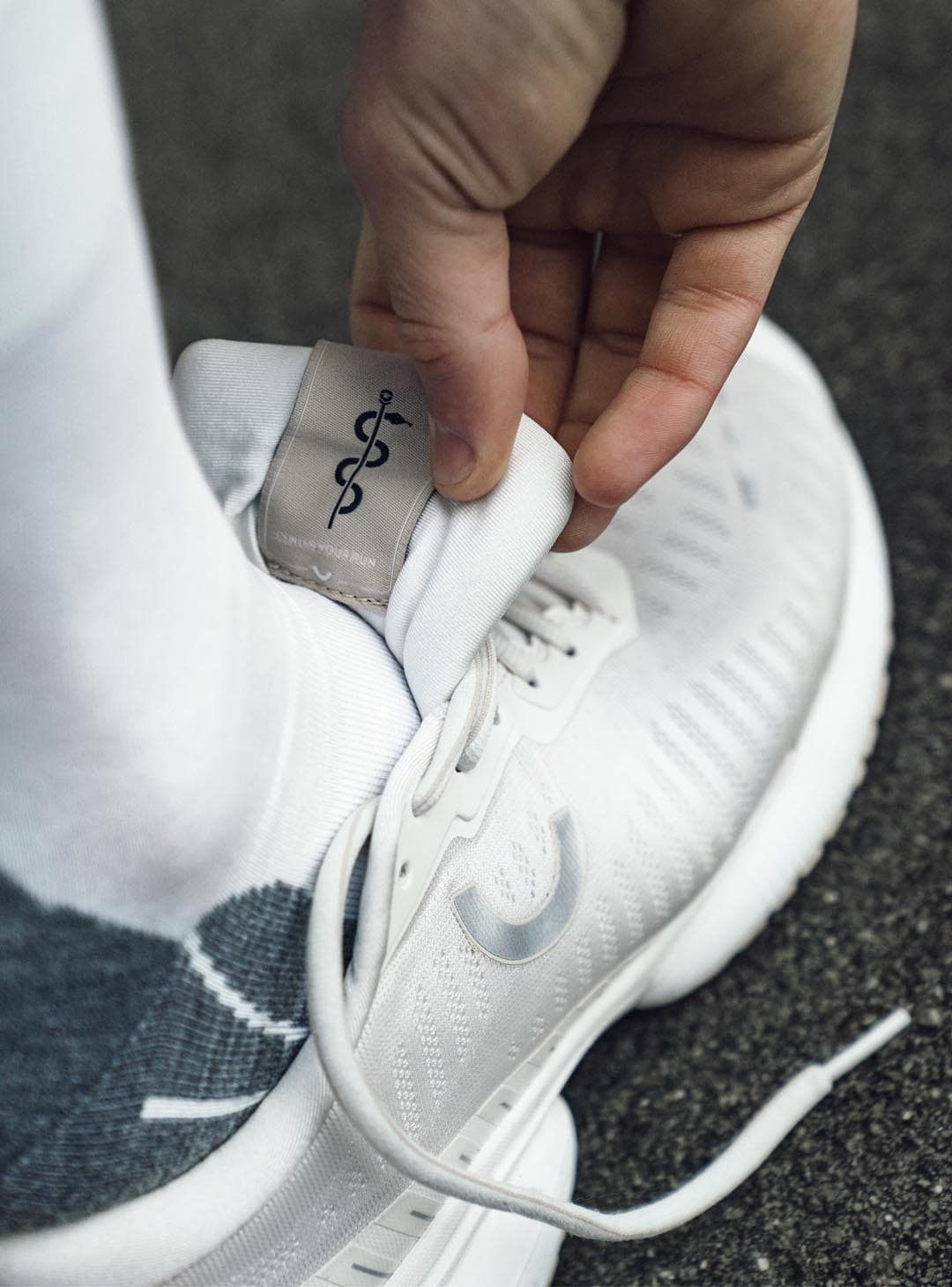 NEVER RUN OUT OF
NEWS
Discover all True Motion stories – and be the first to hear about new products, promotions and events. Simply, center your run!
NEVER RUN OUT OF
NEWS
Discover all True Motion stories – and be the first to hear about new products, promotions and events. Simply, center your run!








NEVER RUN OUT OF NEWS
Discover all True Motion stories – and be the first to hear about new products, promotions and events. Simply, center your run!
FOLLOW US © 2023 True Motion Running GmbH