 Hey, ihr Leute dort draußen!

Ich bin Forrest Gump, und wenn ich etwas in meinem Leben gelernt habe, dann ist es das: Laufen ist wie eine Pralinenschachtel, man weiß nie, was man bekommt. Aber mit Laufschuhen True Motion weißt du zumindest, dass du ein Lauferlebnis hast, das du noch nie zuvor gespürt hast. Gut, dass du den QR-Code auf meinem T-Shirt gescannt hast. Denn mit dem Code
bekommst du einen Rabatt in Höhe von 20 % auf deinen nächsten Einkauf im True Motion Online-Shop.* Nein, das ist kein Scherz. Das ist genauso wahr wie der Bubba Gump Shrimp Co.
Übrigens, wusstest du, dass die Laufschuhe von True Motion in Köln entwickelt werden? Genau hier, wo du mich gerade getroffen hast – oder genauer gesagt: in den Laboren im Mediapark und im Büro in Köln-Sülz.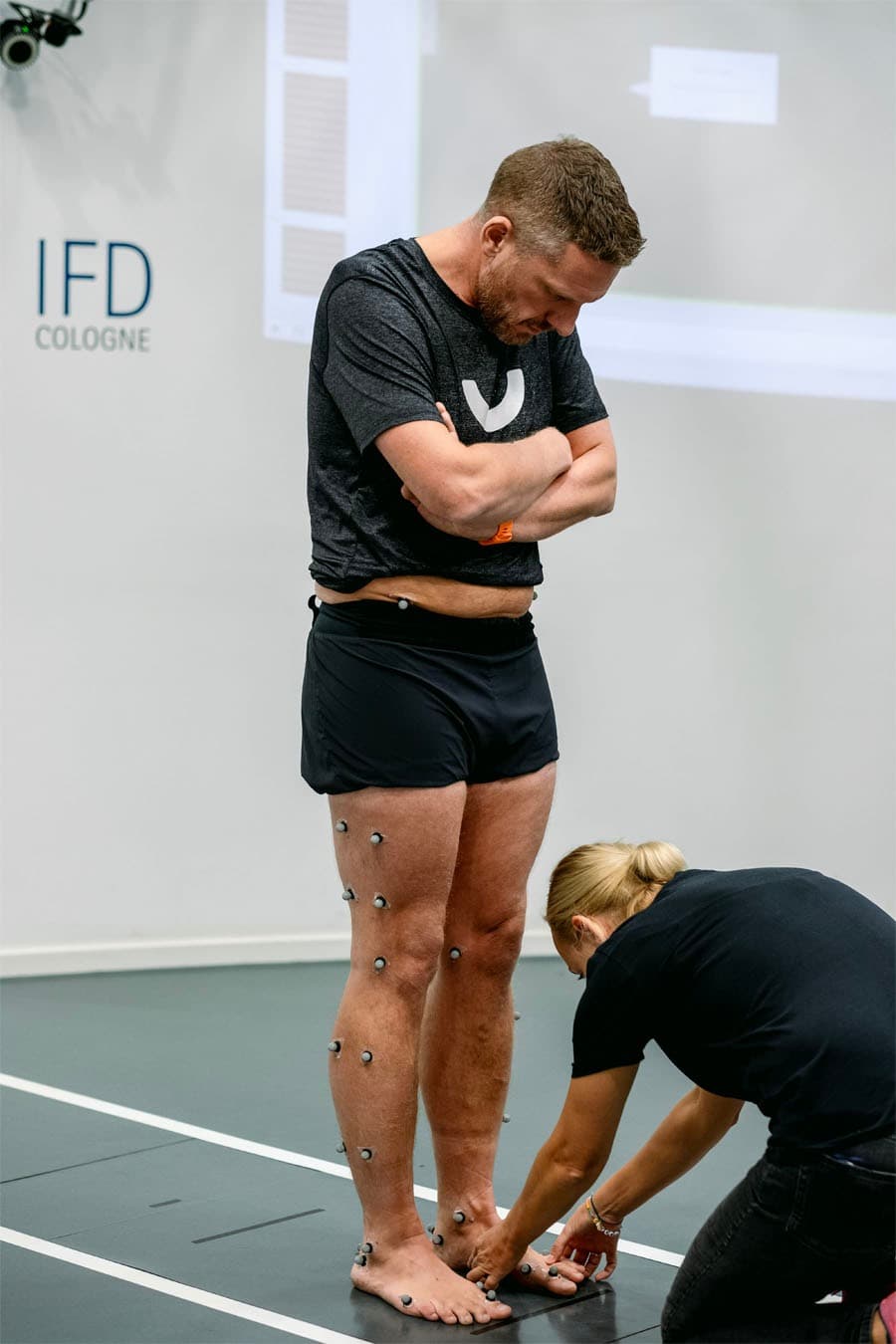 Doch das ist nicht alles. Denn das Beste ist, dass True Motion eine ganz neue, einzigartige Technologie erfunden hat: U-TECH™. Das klingt wie eine Geschichte aus einem Buch, aber es ist wirklich wahr. U-TECH™ sorgt für ein einzigartiges Laufgefühl und reduziert dabei die Verletzungsgefahr um 50 % im Vergleich zu herkömmlichen Laufschuhen. Ich weiß, wovon ich rede. Ich habe schließlich in meinem Leben auch schon Tausende Schritte gemacht.

Aber was ich wirklich spannend finde, ist wie die U-TECH™ Technologie funktioniert. Ich versuche mal, dieses besondere Hufeisen in der Sohle zu erklären: U-TECH™ ist wie eine Umarmung für deine Füße und umschließt den Fuß auf natürliche Weise. Wie ein Fersenfettpolster also. Und das ist wirklich gut. Denn so verläuft die Kraft, die bei jedem Fußaufsatz entsteht, gerade und zentriert durch deinen Körper. Ich glaube, dieses U ist wie eine Federmatratze für deine Füße, die dir dabei hilft, effizienter, leichter, komfortabler und sicherer zu laufen.
Sei wie ich, erkunde die Welt wann und wo immer du willst – und schnapp dir ein Paar True Motion Laufschuhe. Sei dir sicher, du wirst es nicht bereuen. Also, entdecke die Welt von True Motion.
Nun, ich denke, ich werde mich jetzt verabschieden und wieder laufen gehen. Also schnür' auch du deine Schuhe und lauf los, so wie ich es immer getan habe. Und vergiss nicht, wenn du jemals das Gefühl hast, du könntest nicht mehr, denk' einfach an True Motion und dass wir immer an deiner Seite sind. In diesem Sinne: Run, Forrest, Run – und vergiss nicht, den Rabattcode FORREST20 bei deiner nächsten Bestellung einzulösen!

Dein Forrest Gump
* Gültig bis Aschermittwoch, 22.02.2023, auf deine nächste Bestellung. Denn an Aschermittwoch ist alles vorbei. Nicht kombinierbar mit anderen Aktionen. Um den Rabatt zu erhalten, kopiere den obenstehenden Code und füge ihn im Bezahlprozess im Feld "Ich habe einen Rabattcode" ein.
NEVER RUN OUT OF NEWS
Discover all True Motion stories – and be the first to hear about new products, promotions and events. Simply, center your run!
FOLLOW US © 2023 True Motion Running GmbH